So I've probably spent most of the last week lying horizontally in the hope that I would soon feel better. I've had the flu and aside from the expected bad chest, headaches, earaches etc, I also found myself hallucinating about being on a desert. It was certainly quite frightening but I'm feeling much better now! The only good thing about the illness was being able to lie down and read as much as I wanted and watch as much as I wanted without feeling guilty!
Books of the Week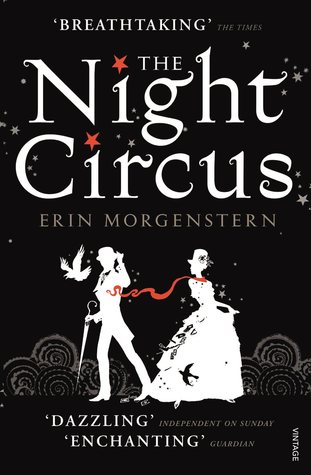 I've finished three books this week. The first was I Know Why the Caged Bird Sings by Maya Angelou. This is the first instalment of her memoirs and I will definitely be adding the other instalments to my tbr soon. It was really interesting to read about her life as a young girl growing up with her brother and learning about those people who influenced her early life. Maya herself has been through some truly harrowing experiences and it was both emotional and interesting to read about her early years.
My second read this week was The Night Circus by Erin Morgenstern. Yes, I FINALLY got around to it!! I can't count the number of WWW posts I wrote saying this would be my next read and I just kept postponing it. Luckily, I felt that it did live up to the countless positive reviews I had been given of the book. It is full of truly gorgeous and capitvating descriptions. So much so that at times I genuinely felt that I was visiting the circus myself! It was an enchanting story.
My final read of the week was my arc of Shtum by Jem Lester. WOW. This book was incredibly touching and emotional. It follows the story of Ben Jewell and his highly autistic son, Jonah, as he single-handedly tries to secure a positive future for Jonah at a residential school for autistic children. This is a poignant and painfully truthful story of live for both the autistic child and their family. The love, the pain (both physical and emotional) and most of the all the enormous sacrifices that are made to ensure a happier future. This has me both laughing and in tears simultaneously and I would highly recommend!
---
Films of the Week
Luckily I managed to fit in my cinema trip before the flu fully took hold of my body and I finally got around to seeing Allegiant with my sister. I am a big fan of the Divergent series and had been looking forward to this for a while. I thought the film was great. Plenty of action (not to mention that Theo James is quite nice to look at!). I was, however, slightly confused/disappointed at the ending as it was different to the book but then they are making a fourth movie so who knows what will happen! I also watched The DUFF with my sister after reading the book and I can confirm that I still prefer the book. I'm going to the cinema this evening to see London Has Fallen and I'm looking forward to seeing what Gerard Butler has to offer me!
TV of the Week
So my week consisted of the following TV shows:
I also finally finished my binge of Gossip Girl! I'm actually kind of sad that I've reached the end as I couldn't help but feel completely immersed in the lives of Manhattan's elite. But maybe it's time that I also moved on to another show. Although I was slightly let down by who Gossip Girl turned out to be, I absolutely LOVED the final few scenes of the last episode. It was absolutely perfect for me and so many of my favourite characters on the show had their happy endings. The question is: what do I binge next?
Blogposts of the Week
Finally…
I'm about to embark on my journey with the Lunar Chronicles. That's right, Cinder is the next book up for me! I don't have copies of the rest of the series yet but assuming that I'm going to enjoy it, I'll be picking them up from the book store this week. Here goes to hoping that I'm going to love this series!
Do you have any opinions on the above books? Or maybe you've seen one of the same movies as me or are a fan of the TV shows I watch? Get in touch! 
---
Feel free to follow me on Twitter or Goodreads. Comments are always warmly welcome.