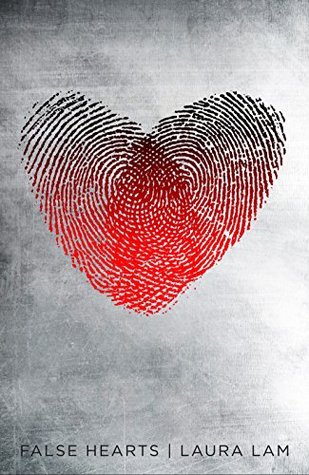 False Hearts (False Hearts #1)

Author: Laura Lam
Genre: Sci-Fi, Fantasy
Originally Published: June 16th 2016
Format: eARC (384 pages)
---
Synopsis:
To save her twin, she must take her identity.
One night Tila stumbles home, terrified and covered in blood. She's then arrested for murder, the first by a civilian in decades. The San Francisco police suspect involvement with Verve, a powerful drug, and offer her twin sister Taema a chilling deal. Taema must assume Tila's identity and gather information to bring down the drug syndicate. The police may then let her sister live. However, Taema's investigation raises ghosts from the twins' past.
The sisters were raised by a cult, which banned modern medicine – yet as conjoined twins, they needed life-saving surgery to replace their failing heart. And with help from co-conspirators, they escaped. Taema now discovers that Tila had found links between the cult and the city's criminal underworld. The twins were once unable to keep secrets, but will learn the true cost of lies.
---
My Rating: ★★★★ 1/2
Wow! This book is full of darkness, twists, highly developed technology, cults, villains, brain manipulation and death. This is fantastic!
Taema and Tila lived the first 16 years of their lives as conjoined twins, growing up in a cult on the outskirts of a highly modernised San Francisco: until the day they escape. On their escape from the cult, Taema and Tila undergo life saving surgery and begin their lives as individuals. The sisters know everything about each other, at least that's what Taema thought until the day Tila runs into her apartment covered in blood and is arrested minutes later for murder. Here begins a dark story of the hidden world of the Ratel, San Francisco's most dangerous criminals. Taking on her sister's identity, Taema is forced into a world of brain manipulation, implants, murder and darkness.
I really liked the way this story was told with alternating chapters between Taema and Tila. In Taema's chapters, we learn all about her new undercover life and just how far Tila had infiltrated the Ratel. She unearths secrets even she didn't imagine could be true and comes closer and closer to revealing the connection between the cult and the criminal underworld. Tila's chapters give us an insight into their earlier life in Mana-ma's cult and I really thought her chapters were fascinating. They were the breather I needed from some of the really intensely action-packed chapters we get from Taema.
The world-building in this book is fantastic. I loved so much about the highly advanced San Francisco where people could make themselves into the person they truly wanted to be. At the same time, it terrified me. The sheer amount of brain manipulation described in this book terrified me but it was so amazingly described.
What did I love most about the book?
The characters were amazing and SO diverse which I really loved. I really loved seeing how Taema struggled with some of her moral beliefs as she played her part as Tila. It really showed that no matter how much you think you know a person, you can never truly know what they are capable of. Seeing her internal struggle made her so real and she was by far my favourite character.
Final Thoughts
This is a great sci-fi novel and I can totally see why comparisons have been drawn to Orphan Black. Although it is very different, it definitely has that vibe about it. I would love to see this as a movie actually, it would make the dreams and brain manipulations so fantastic if we could truly visualise them. A fantastic read if you like a dystopian society, a dark plot full of twists and great characters.
---
Have you read False Hearts? What did you think? 
What Sci-Fi books would you recommend to someone wanting to explore the genre? 
---
Feel free to follow me on Twitter, Instagram or Goodreads. Comments are always warmly welco