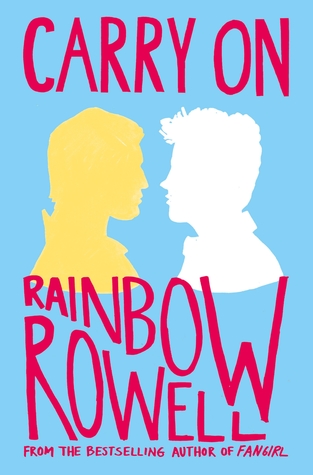 Carry On

Author: Rainbow Rowell
Genre: Fantasy, Young Adult
Originally Published: October 6th 2015
Format: Kindle (528 pages)
---
Synopsis: Simon Snow just wants to relax and savor his last year at the Watford School of Magicks, but no one will let him. His girlfriend broke up with him, his best friend is a pest, and his mentor keeps trying to hide him away in the mountains where maybe he'll be safe. Simon can't even enjoy the fact that his roommate and longtime nemesis is missing, because he can't stop worrying about the evil git. Plus there are ghosts. And vampires. And actual evil things trying to shut Simon down. When you're the most powerful magician the world has ever known, you never get to relax and savour anything.
Carry On is a ghost story, a love story, a mystery and a melodrama. It has just as much kissing and talking as you'd expect from a Rainbow Rowell story — but far, far more monsters.
---
My Rating: ★★ 1/2
I wanted to love this book, I really did but about halfway through I feared that just wasn't going to happen for me. I was reassured by many people that the second half of this book is much better but in all honesty it just wasn't for me. I was a big fan of Fangirl but I've had an arc of this for a long time and just couldn't pick it up. I finally picked it up after seeing so many amazing reviews and thinking I would fall in love with this but it just fell short for me.
The plot wasn't strong enough for me. I felt as though I had picked a book up from the middle/end of a long series and I spent most of the book not having a clue who people were or what was going on. Maybe this was intentional, I don't know, but it didn't work for me. It felt a bit all over the place and it probably wasn't until the last 150 pages or so that I was that interested in what was happening. I will admit that it did pick up a little at the end but I was a bit disappointed with how this ended just as I thought it had potential. There were too many similarities to Harry Potter for my liking. I cringe to say it but this just felt like weak fanfiction to me. Don't get me started on how irritating the spells were, I couldn't stop rolling my eyes and some of them actually made me cringe. 'Have a break, have a Kit Kat' – please no.
On a positive note, I did like some of the characters. Penny was my favourite (probably because she resembled a Hermione-like character). I liked her individuality and her brashness. The way she would just say things to Simon or Agatha without worrying about how her words would be received. I liked that a lot about her. I liked Simon but I thought his character was actually quite boring. I didn't feel as attached to his character as I did to others. On the other hand, I thought Baz was a great character. He had so many sides to his personality and this allowed me to make more of a connection with him. I loved that he had his struggles with his sexuality and his vampire side but that he was also proud of them in the company of the right people. Agatha was pointless to this story. Her POVs didn't offer anything new to the story and I don't really understand why she was there half of the time.
I actually would have liked to learn a bit more about the Mage. He was mentioned several times per page but I got to the end not really knowing that much about him. I'm not sure I'm a fan of how his storyline developed but I really wish we could have read more about his background as this may have lead me to understand why the story ended the way it did.
What did I like most about the book?
My favourite thing about the book would have to be the relationship between Baz and Simon and how it developed from the beginning to the end. It was obvious from the beginning how their relationship would end but that didn't take anything from it. I thought they moved from enemies to much more in a way which made sense and I liked how this was written in.
Memorable Quotes
"You have to pretend you get an endgame. You have to carry on like you will; otherwise, you can't carry on at all."
"You were the sun, and I was crashing into you."
"It's the good things that hurt when you're missing them."
Final Thoughts
On the whole, I thought this book was okay. I wouldn't read it again and I don't feel that this book really effected me in any particular way but I don't regret reading it. Some people will love this and I guess that for others, like me, it just won't be the book they want it to be. But that's okay, we all have our own opinions.
Thanks to Netgalley for my copy in exchange for an honest review.
Have you read Carry On? What did you think? 
---
Feel free to follow me on Twitter, Instagram or Goodreads. Comments are always warmly welcome.