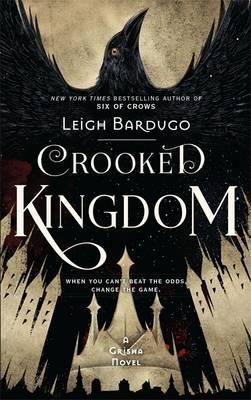 Crooked Kingdom (Six of Crows #2)
Author: Leigh Bardugo
Genre: Fantasy, Young Adult
Originally Published: September 27th 2016
Format: Paperback (536 pages)
---
Synopsis: Kaz Brekker and his crew have just pulled off the most daring heist imaginable.
But instead of divvying up a fat reward, they're fighting for their lives.
Double-crossed and badly weakened, they're low on resources, allies and hope.
While a war rages on the city's streets, the team's fragile loyalties are stretched to breaking point.
Kaz and his crew will have to make sure they're on the winning side… no matter what the cost.

---
My Rating: ★★★★★
Wow wow wow wow wow!! So I absolutely LOVED Six of Crows when I read it earlier this year and Crooked Kingdom was probably my most anticipated release of 2016 and it was OH so good!! (This contains no spoilers for CK but mild SoC spoilers)
Crooked Kingdom picks up shortly after the end of Six of Crows. The Dregs are in pieces following their heist on the Ice Court, they are one member down and desperately seeking revenge and a way to recapture their beloved Wraith. From beginning to end, this book is full of everything I loved in Six of Crows. I was instantly swept up into the plot and was constantly left reeling by the many twists and turns that Bardugo threw at us in this action-packed and exhilarating ride. I loved that Kaz was always several steps ahead of me as a reader. Every time I thought to myself 'This is it, they're all going to die. This is impossible.' I was immediately left in awe at how I had been completely blindsided by both Kaz and Bardugo. Her writing is absolutely magnificent.
I found myself completely head over heels with all of the delicious characters Bargudo has created for us here. Kaz is as fantastically evil as ever but at the same time manages to make my heart flutter. We see some serious character development for him in this book and it was both suprising and endearing to see that Kaz does in deed have a deeply emotional side that he was slighly (only very slightly) more willing to share.
Inej is probably my favourite character in the duology. I love that she is the Wraith, I love the reputation she has for herself and her undying loyalty to Kaz, Nina and the rest of the gang. Her chapters were some of my favourites in the book and I absolutely loved her ending. I actually felt like my heart was being squeezed!
Nina continues to be a strong runner for favourite character behind Inej, tying nicely with Kaz. Nina is both the same Nina from the first book and also a very different Nina in Crooked Kingdom. After taking parem she has fought off the addiction but discovered that her Grisha power is not what it used to be. I find Nina to be such a relatable character(despite her Grisha power). She is such a loyal friend to Inej and I love their friendship. She also has a fierce appetite and her love for waffles is something that can only be admired from afar.
Matthias came into his own in this book, I felt. Despite his Fjerdan upbringing and beliefs, we truly see a change in him during this novel as he learns to accept the difference in those around him, especially the Grisha. He gives in more to his feelings and is much more lovable.
Jesper slowly learns to embrace the powers he has suppressed for so long. I loved learning more about Jesper's childhood and upbringing in this book. I think it was really essential for my to fully understand and appreciate his character.
BUT the biggest character development for me had to come from our precious Wylan. He had a tough time of it in this book. He was in emotional turmoil thanks to his father, this then later spiralled out of control when he learnt the truth about his mother. His feelings for another member of the gang are developing rapidly and, most importantly, Wylan really comes into his own and earns the true respect of those around him. Wylan is so much more than a privileged runaway, he is a smart, genuine and caring young man who really proves his worth in this book.
The end of this book was perfect to me. Although I would seriously love to read more in this series, I think Bardugo left these characters in the most delicate and perfect manner. Many romantic ships sailed in this book, some right out into the ocean, others merely metres from the harbour, but I loved every single one of them. The end is tainted by sadness as one of our crew departs from life but I felt that this was much more realistic than having everyone survive such an incredibly dangerous situation. As well as being an exhilarating ride, this is also a very emotionally charged read which did have me in tears by the end.
What did I love most about the book?
I really loved everything about Crooked Kingdom. I thought Bardugo's writing style was magnificent, the plot was exhilarating and I'm genuinely not sure if I was breathing for a good portion of this book. It really was that good!!
Memorable Quotes
"I would have come for you. And if I couldn't walk, I'd crawl to you, and no matter how broken we were, we'd fight our way out together-knives drawn, pistols blazing. Because that's what we do. We never stop fighting."
"She smiled then, her cheeks red, her cheeks scattered with some kind of dust. It was a smile he thought he might die to earn again."
"Fear is a phoenix. You can watch it burn a thousand times and still it will return."
"How many times have you told me you're a monster? So be a monster. Be the thing they all fear when they close their eyes at night."
Final Thoughts
Bardugo has truly mastered writing complex plots and weaving them together perfectly through a series of character point of views which leave you truly caring for each and every character. She's a genius.
Have you read Crooked Kingdom? What did you think? Who is your favourite member of Kaz's crew?
---
Feel free to follow me on Twitter, Instagram or Goodreads. Comments are always warmly welcome.