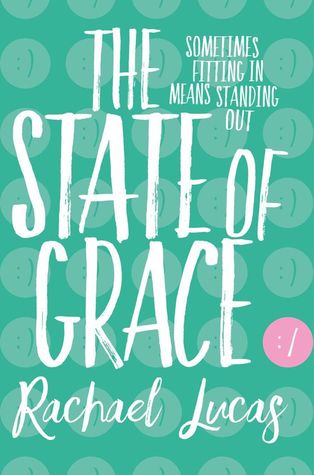 The State of Grace

Author: Rachael Lucas
Genre: YA, Contemporary
Publisher: Macmillan Children's Books
Publication Date: April 6th 2017
Format: eARC (224 pages)
---
Synopsis:
Sometimes I feel like everyone else was handed a copy of the rules for life and mine got lost.
Grace has Asperger's and her own way of looking at the world. She's got a horse and a best friend who understand her, and that's pretty much all she needs. But when Grace kisses Gabe and things start to change at home, the world doesn't make much sense to her any more.
Suddenly everything threatens to fall apart, and it's up to Grace to fix it on her own.
Whip-smart, hilarious and unapologetically honest, The State of Grace by Rachael Lucas is a heart-warming story of one girl trying to work out where she fits in, and whether she even wants to.
---
My Rating: ★★★★
The State of Grace is such a charming and heartfelt read. Rachael Lucas has truly put part of herself into Grace and I am so thankful to her for writing this wonderful #OwnVoices young adult novel.
This book tells the story of Grace, a teenage girl with Asperger's. Grace has a unique view of the world and those around her and this book truly allows us a glimpse into her world. Not only do we get to share this unique view of her world, we also see how Grace is often treated differently because of her autism. Grace has a voice and all she wants is for people to listen and understand her. She may not always have the right answers but she at least wants to be given the chance.
Rachael Lucas's writing style is simple yet gorgeous. She truly puts us in Grace's shoes and helps us to understand how Grace feels in all sorts of situations. Whether that be the overwhelming sounds and colours of the world around her or those tricky moments where Grace just doesn't know how she is supposed to respond. Grace is a character that I think everyone will somehow relate to, it's easy to empathise with her and on multiple occasions I just wanted to let her know everything would be okay.
I am so in love with Grace and Anna's friendship in this book. They have easily become one of my favourite female friendships in YA books. I love that Grace considers Anna to be one of her safe spaces and that with the love and support of her best friend Grace feels more able to put herself in new situations and have new experiences. That's a real friendship right there. I also really loved Grace's relationship with her horse Mabel. If you are a horsey person then you will love this book!
I have to point out that this book is not all sunshine and rainbows. At the beginning of this book there was a scene that made me feel completely and utterly sick to my stomach and that was the particularly disgusting treatment of Grace by one of her teachers. As a teacher myself I cannot even fathom the idea of making any child sit in the corner of a classroom and face the wall but especially a child who has shown a pass to get them out of a potentially terrifying and harmful situation. It just doesn't sit well with me and I was so sad that this is something that some autistic children may be put through. I feel sickened just thinking about it now but I want to thank Rachael for putting this scene in there because it is something that needs to be acknowledged.
As a secondary school teacher I love Grace and cannot wait to introduce her to some of my pupils who I know will see so much of themselves in Grace. They will be so delighted to find a book they can relate to and they are sure to love Grace and her journey in this book. Thank you, Rachael, for putting yourself out there so those young people can have a book where they are represented.
This book is very well written and a super quick and adorable read. A fantastic addition to the amazing year that UKYA seems to be having in 2017!
Thank you to Netgalley, Macmillan and Rachael Lucas for my copy in exchange for a fair and honest review.
---
Have you read The State of Grace? What did you think?
What are your favourite UKYA releases of 2017 so far?
---
---
Follow me on Twitter, Instagram, Bloglovin' or Goodreads. Comments are always warmly welcome.