Hello my lovely readers! I'm suffering with a dose of back-to-work-blues on this fine evening! It's never easy going back after two weeks off but even harder after having such a wonderful time!
---
 I've read some really excellent books over the last week or so especially thanks to the #SundayYAthon I took part in (find out more here). Find links to the books I've been reading by clicking on their covers and look out for my reviews this coming week! My current read is Becoming Betty which is turning out to be a pretty good read, I may even finish it tonight.
Whilst in New York I obviously had to make some bookish stops and I found myself lost in the Strand Bookstore and I LOVED it there. I honestly could have stayed there all day exploring and also could have easily drained my bank account! I did however behave myself just making some special purchases. I bought myself a copy of The Education of Margot Sanchez as I've not been able to get that here and I NEEDED it. I then treated myself to US versions of three of my favourite YA reads: The Hate U Give, Six of Crows and Crooked Kingdom (still dying over those sprayed edges!!)
In terms of book post I also had a pretty great week courtesy of lovely publishers, giveaways and bookish friends! I received all of the books above and now need to find a spot for them on my shelves!
Woops – two more eARCs. In my defence I requested these a while ago and they just got approved – I haven't requested any new ones! Go me!
Progress is being made little by little! Every little counts and all that!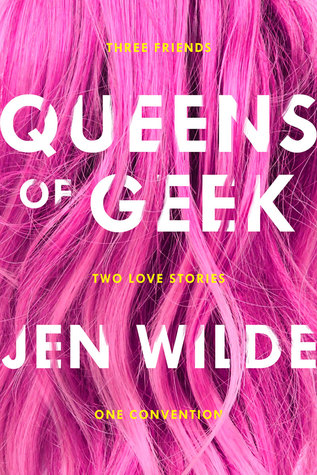 This was quite a tough call this week but I've gone with my heart and picked the wonderful Queens of Geek by Jen Wilde. This book is everything that my younger fangirl self would have dreamed of. It also has two fabulous female MCs and we see the story from their alternating POVs. This is such a diverse book dealing with sexuality and mental health issues in a way that only an #OwnVoices book can. A super quick and heart warming read, I urge everyone to give this a go!
Only a few posts this week as I was away and then jet lagged for most of it! On the plus side lots of reading means lots of upcoming reviews!
New York was AMAZING!! I honestly had the BEST time there and I've just about caught up on sleep and adjusted to being back in the UK. I managed to do all of the touristy things and went to see Phantom of the Opera too! You can expect a blog post dedicated to NYC sometime this week with pictures galore! Incredible.
Have a wonderful week!
---
What have you been reading this week?
What blog posts have you written this week? Share your links in the comments! 
---
---
Follow me on Twitter, Instagram, Bloglovin' or Goodreads. Comments are always warmly welcome.