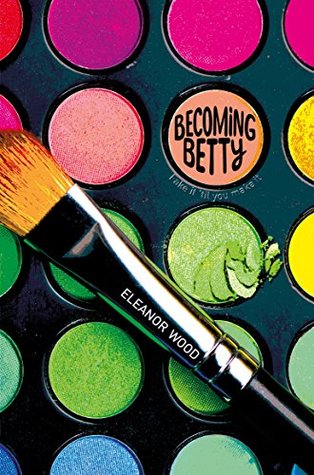 Becoming Betty

Author: Eleanor Wood
Genre: YA, Contemporary
Publisher: Macmillan Children's Books
Publication Date: April 20th 2017
Format: Paperback (336 pages)
---
Synopsis:
Lizzie Brown's life is one big to-do list:
1. Start college
2. Become cool
3. Decide wtf to do with her life
So when she meets Viv, the crazy, beautiful lead singer in a band, she thinks she's on her way to achieving number two on her list. And when Viv asks her to be the bass player in the band, there's only one problem – Lizzie can't play a single note. And that she's nowhere near cool enough (ok, two problems). And that she has a huge crush on the guitarist (ok, three), who happens to be Viv's boyfriend (ok, this is a terrible idea).
But Viv won't take no for an answer, and decides that a makeover is the answer to everything. Boring Lizzie Brown is going to become Betty Brown the Bass Player and there's nothing Lizzie can do about it…
---
My Rating: ★★★★
I've got to admit that until picking up this book 'girlbandlit' wasn't really something that had crossed my path before. I can't remember a book I've read that could compare to Becoming Betty and I thought it was a marvellous introduction to the world of band lit.
Becoming Betty truly embraces that teenage struggle of finding yourself. After leaving school with her GCSEs and starting afresh in college, Lizzie soon finds herself firmly under the wing of 'cool' girl Viv. It's not long until Lizzie becomes Betty and loses touch with herself. Will she be able to find her way back to Lizzie?
I first have to address the fact that for almost 2/3's of this book I really wasn't sure how I felt. I really despise the trope of girls (in particular, but it can also be boys) changing themselves to be 'cool' by doing bad and detrimental things. I think it gives out such a negative vibe to young readers and I have to admit that I was concerned at where this book was going. Luckily Eleanor Wood saved the day in the final third of the book and I loved how this story turned out. I loved that by the end of this book Lizzie had found her true self and realised that she only ever needed to be herself to fit in and feel loved. The ending of this book was strong enough for me to add that fourth star to my rating!
I really, really, really loved Lizzie's parents in this, particularly her dad. As someone who never really grew up around a supportive father I felt quite emotional at times because I longed for a dad like Lizzie has. He is so sweet and supportive and I loved all his little fangirling moments about various bands. Although there is a clear distance between Lizzie and her mother I liked how this felt realistic and by the end you could see that actually her mum just cares about her so much that sometimes it comes across in the wrong way to Lizzie. It was so refreshing to read a YA book where parents were so supportive and involved.
The characters in this book are SO well written and I have to give Eleanor Wood her due for that. I wanted to scoop Lizzie up in my arms and just give her a hug and tell her everything would be okay. I loved Lizzie so much and as a result absolutely despised most of what Betty was. Daisy and Jake seemed really fun and I liked the portrayal of Lizzie and Grace's sibling relationship. Despite their differences they were deep down really supportive of each other and I appreciated that so much. Viv makes my skin crawl, maybe partially because she reminded me of someone that I know. I just couldn't stand how manipulative and self-centred she was regardless of how it affected others. She was horrid. I've also decided that I would have SO loved to be best friends with the girls in Dirty Harriet, they sounded like a right laugh!
Overall I thought this was a great book and really well written. I loved the characters and the way their relationships were portrayed. It was also really cool to read a book with so many musical references and I definitely want to read more books like this in the future.
---
Have you read Becoming Betty? What did you think?
What are your favourite band lit novels?
---
---
Follow me on Twitter, Instagram, Bloglovin' or Goodreads. Comments are always warmly welcome.