Hello my lovelies! Another week gone and another Sunday Summary from me to you! Slightly bare on the blog posts this week as it was a busy week!
I've finished two books this weekend the first being the powerful and heartbreaking Paper Butterflies by Lisa Heathfield. I've owned this book for a long time but was never sure I was emotionally stable enough to read it. I don't think anything could have prepared me for the amount of tears I shed! Then I devoured Cell 7 by Kerry Drewery in two sittings. This book has made me question a lot of things from social class to media influences. I'm going to start Day 7 this afternoon!
I've had a GREAT week for book post as it was my birhday on Thursday and I had lots of lovely presents from my bookish friends. I'm not going to post them here yet as I'll soon be posting a birthday book haul post!
I did however purchase a couple of books for my Kindle yesterday and I'm looking forward to reading them soon. I've had my eye on Mad Girl for a while now.
Progress is being made little by little! Every little counts and all that!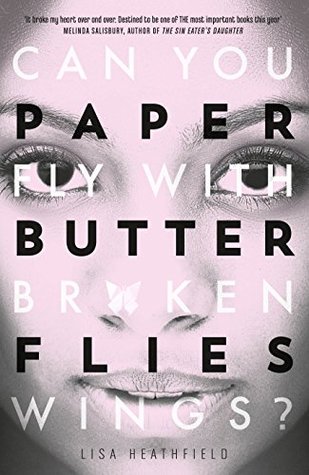 Once in a while a book comes along that affects you in a way you never thought possible. Paper Butterflies is one of those books. Lisa Heathfield does not shy away from the horror of child abuse in this story but amongst the darkness there are such bright glimmers of hope. I never saw the ending coming at all and it blew me away and crushed me at the exact same time. I cried for the majority of the last 100 pages of this book. Phenomenal and oh so powerful.
My birthday was on Thursday and I still feel overwhelmed by how wonderful my day was. I was spoilt rotten by friends, family and work colleagues and spent the day with such a warm feeling in my heart. I enjoyed a lovely meal out with my family on the day and then spent Friday night eating lovely tapas and drinking fruity cocktails with my favourite ladies (followed by some rather outrageous dance moves, I might add!) It's been such a glorious and happy week.
My brother (who clearly is the brother of all brothers) also treated me by giving me a £35 book token and I'm excited to go book shopping soon. I don't know what I'm going to buy yet so if you have any suggestions please drop them in the comments!
Have a wonderful week! ❤
---
What have you been reading this week?
What blog posts have you written this week? Share your links in the comments! 
---
---
Follow me on Twitter, Instagram, Bloglovin' or Goodreads. Comments are always warmly welcome.