Top Ten Tuesday is a weekly meme hosted by the lovely people at The Broke and the Bookish. This week's prompt is to talk about our best books of the year so far. To make this more specific I'm going to pick my ten favourite 2017 releases so far! These are in no particular order!
1. Wing Jones by Katherine Webber
I'm obsessed with Wing Jones by the lovely Katherine Webber. This book has carved its own special place in my heart for personal reasons. It is a wonderful book full of hope and I loved the family relationships especially. Check out my full review here.
2. A Quiet Kind of Thunder by Sara Barnard
I can still remember the wonderful feeling I had from reading A Quiet Kind of Thunder by Sara Barnard. I love her writing style and Steffi and Rhys easily became one of my favourite fictional couples. A diverse book with a beautifully written coming of age story. This book gave me one of my favourite 2017 memories, when I gave a copy to a pupil and she brought it back with tears in her eyes to tell me she's never read a book where she could see herself in the characters. Check out my full (and long) review here.
3. The Hate U Give by Angie Thomas
I think it's safe to say that if you haven't heard of The Hate U Give from debut author Angie Thomas then you've been living under a rock this year. It was so highly anticipated by many people and it has blown so many away. This book is absolutely phenomenal and I can't wait to see what Angie will give us next. Check out my appreciation post here.
4. The Scarecrow Queen by Melinda Salisbury
My lovely friend Steph introduced me to Melinda Salisbury's trilogy and I devoured the whole thing in just under 7 days. I love how dark these books are and The Scarecrow Queen was the perfect ending to the trilogy. It was dark and just glorious! If you enjoy YA fantasy then this trilogy is a must read! Check out my full review here.
5. Traitor to the Throne by Alwyn Hamilton
Traitor to the Throne by Alwyn Hamilton is the second book in the Rebel of the Sands series and it was fabulous! I love Amani and Shazad, they are two of my favourite fictional females of 2017 and I especially love their friendship. I love the setting of these books, the magical elements are really interesting and Jin is gorgeous (I haven't seen him but I just know it in my bones!). Check out my full review.
6. The State of Grace by Rachael Lucas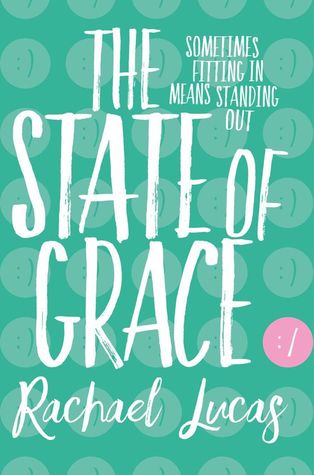 The State of Grace by Rachael Lucas is a really heartfelt and touching read about Grace, an autistic teenage girl. It is rare to see books about girls with autism and that was what originally drew me in. I loved the writing style and I love that this book is not about Grace's autism, but simply her coming of age story. Grace was really easy to relate to and I felt that I learnt a lot from this book in a way that you can only do when reading an #OwnVoices book. Check out my full review.
7. Countless by Karen Gregory
Countless by Karen Gregory is one of those books that takes your emotions, twists them around and around and then lets go all of a sudden resulting in a mess of tears and loud, ugly sobbing. This book evoked so much emotion in me and I cried solidly for about half an hour after finishing it. A beautiful story of love and loss. Check out my full review (trigger warning for eating disorders).
8. Caraval by Stephanie Garber
There was so much hype around the release of Caraval by Stephanie Garber towards the beginning of 2017 and I personally really enjoyed it! I liked the writing style and the use of colours to describe the vivid world of Caraval. My favourite thing was to read about two sisters as I have a special connection to sibling relationships. Check out my full review.
9. Strange the Dreamer by Laini Taylor
Unlike most people Strange the Dreamer was my first Laini Taylor experience and I loved every second. Laini's writing is so unique and special, it's full of magic and you can see how much care she takes with writing. These are not just words on paper, they are carefully chosen and woven together to create the perfect story. I know I'll certainly be reading more from Laini in future! Check out my full review.
10. Our Dark Duet / A Conjuring of Light by Victoria Schwab
2017 has delivered another two fantastic novels from Victoria Schwab. I absolutely adored Our Dark Duet and thought it was the perfect second half to the Monsters of Verity duology. Look out for my review which will be posted soon. A Conjuring of Light was absolutely incredible from start to finish. I am in love with Schwab's writing and I know I will always buy and read everything she ever writes. You can check out my full review of ACOL here.
---
What are your favourite 2017 reads so far?
What upcoming 2017 releases are you looking forward to?
---
---
Follow me on Twitter, Instagram, Bloglovin' or Goodreads. Comments are always warmly welcome.