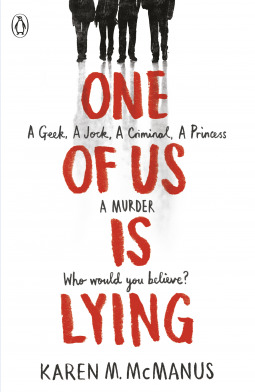 One of Us is Lying

Author: Karen M. McManus
Genre: YA, Contemporary, Mystery
Publisher: Penguin
Publication Date: June 1st 2017
Format: eARC (360 pages)
---
Synopsis:
Yale hopeful Bronwyn has never publicly broken a rule.
Sports star Cooper only knows what he's doing in the baseball diamond.
Bad body Nate is one misstep away from a life of crime.
Prom queen Addy is holding together the cracks in her perfect life.
And outsider Simon, creator of the notorious gossip app at Bayview High, won't ever talk about any of them again.
He dies 24 hours before he could post their deepest secrets online. Investigators conclude it's no accident. All of them are suspects.
Everyone has secrets, right?
What really matters is how far you'll go to protect them.
---
My Rating: ★★★★
I first heard of One of Us is Lying during a #SundayYA chat on Twitter and I was immediately intrigued and knew I would have to get my hands on it somehow. I was lucky enough to get approved to read this via NetGalley and have since been out to buy a physical copy to keep on my shelves too. This book is excellent.
5 teenagers in detention. Only four of them leave. One of them is now dead. But who killed Simon? Bronwyn, Cooper, Addy and Nate all have their reasons to want Simon dead but who would actually act upon them? One of Us is Lying has some serious Gossip Girl / Pretty Little Liars vibes and being a fan of both shows I just knew I would love it.
This book was DELICIOUS! It doesn't mess around at all. Within the first few pages Simon is dead and we are thrust straight away into the murder mystery that I so often think is missing from YA books. We see parts of the story from all four points of view and this definitely added to the mystery and intrigue. As I got to know each character for myself I started to make a mental check list of all the people I just knew weren't the killer. Then I realised I had crossed them all off and had to start over again. My mind was racing to find out who the killer was because I just couldn't work it out for myself. It wasn't until a few pages before the reveal that I did manage to work it out and my mind was blown, so much so that I reread over some parts of the book to see if I could pick up clues.
I really liked that Bronwyn, Cooper, Addy and Nate all had their own voices within the book too and I found a way to connect to each of them. There were definitely times where they frustrated me but also a lot of times where I could relate to them so clearly (I have not killed anyone, just to be clear!). I loved that across our four main characters we had the classic character stereotypes: the clever girl, the jock, the prom queen and the bad boy. But I am so glad that this book peeled back those stereotypes and in fact there was some really excellent character development for each character in their own right.
I really enjoyed this as a quick read that kept me flipping pages until I had discovered the answer to the big question: who dunnit? I love the way McManus wrote her characters and I'll certainly be looking out for more from her in the future.
Thanks to Penguin, Karen M. McManus and NetGalley for my advanced copy in exchange for a fair and honest review.
---
Have you read One of Us is Lying? What did you think?
What are your favourite YA mystery/thrillers?
---
---
Follow me on Twitter, Instagram, Bloglovin' or Goodreads. Comments are always warmly welcome.