Hi everyone! This week was an excellent one for bookish treats (poor shelves) and I have some happy memories to share with you at the end!
This week I've only completed one book so far (with plans to finish my second today!). That book was the fantastic Things A Bright Girl Can Do by Sally Nicholls. The book will be out in a couple of weeks but I just really enjoyed it. I loved learning so much about the Suffragette movement and seeing how the war affected the different girls. There is also a f/f relationship in the book and I loved the different way social classes were shown. My current read is another book releasing in September which is Prisoner of Ice and Snow by Ruth Lauren. This is a MG fantasy and I'm enjoying it so far and interested to see where it is taking me.
Let's start with the books I bought this week! I had a fantastic day in London with the lovely Steph on Friday and I treated myself to a couple of books in Waterstones Piccadilly. I've been eyeing up Show Stopper for a while and fell in love with the blurbs of Sweetfreak and Out of Heart.
I was also lucky enough that Steph and I swapped some books and as a result I came home with two extra books. One is a copy of The Explorer which I have been eyeing up for a while! The other is a book Steph recently devoured and that is The Eyes of the Dragon. I hadn't heard of this book but do like the occasional Stephen King novel so hopefully I'll enjoy it!
I was lucky enough to receive some pretty gorgeous book post this week too! I won a proof copy of A Shiver of Snow and Sky from the lovely folk at Scholastic. It looks gorgeous and has been on my TBR for ages so I'm excited to have my hands on this! I also received a beautiful copy of Wicked Like A Wildfire from Harper360UK. The cover of this book is absolutely GORGEOUS!
Finally, I received a wonderful package from Eve Ainsworth. During the #AuthorsforGrenfell auction I was lucky enough to win the bid for a set of Eve's books. Each of the books has been signed and dedicated and Eve also sent some chocolate and a journal too. Such a lovely prize!
Progress is being made little by little! Every little counts and all that!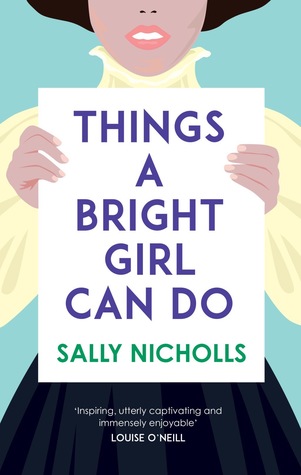 Despite being the only book I fully read this week, I did really enjoy it and so it completely deserves the 'Book of the Week' title. I really enjoyed reading the book from the different perspectives and how the girls had such differing opinions although essentially wanted the same things. Social class and sexuality are explored and, of course, there is an enormous feminist thread throughout the book that I just loved. As a historical fiction novel it was accessible to me which was great and I also felt like I learned a lot. Keep an eye out for me on the blog tour in a few weeks! 
On Friday I had a glorious day in London with my lovely Steph @ A Little But A Lot. We had coffee, hugs, book talk, book shopping, pizza, wine, more book shopping, chat chat chat, lipstick buying, Mexican food, cocktails and a great big hug at the end. It was a lush day and I'm looking forward to arranging our next one soon!
Thursday was GCSE results day and I was (and still am) absolutely over the moon and proud of our results and how my pupils did. We had a lot to celebrate and many happy tears were shed and plenty of celebratory hugs were shared. Days like this make all the stressful ones melt away into distant memories!
This coming week is the summer #SundayYAthon and it's in perfect time for the last week of the holidays! This time the idea is to pick a route across the Bingo board that Rachel (our fabulous host) has designed. I'm going to go for 2017 debut, Free Choice and Previous SundayYA title. If you fancy joining us you just need to post a picture / list of your TBR on Twitter using #SundayYAthon. My TBR is below!
Have a wonderful week! ❤
---
What have you been reading this week?
What blog posts have you written this week? Share your links in the comments! 
---
---
Follow me on Twitter, Instagram, Bloglovin' or Goodreads. Comments are always warmly welcome.