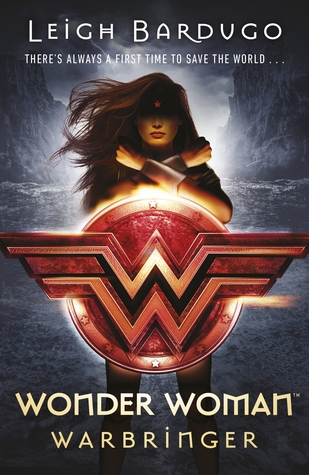 Wonder Woman: Warbringer (DC Icons #1)

Author: Leigh Bardugo
Genre: YA, Fantasy
Publisher: Penguin
Publication Date: August 31st 2017
Format: Paperback (384 pages)
---
Synopsis:
She will become a legend but first she is Diana, Princess of the Amazons. And her fight is just beginning…
Diana is desperate to prove herself to her warrior sisters. But when the opportunity comes, she throws away her chance at glory and breaks Amazon law to save a mere mortal, Alia Keralis. With this single heroic act, Diana may have just doomed the world.
Alia is a Warbringer – a descendant of the infamous Helen of Troy, fated to bring about an age of bloodshed and misery. Diana and Alia will face an army of enemies, mortal and divine, determined to destroy or possess the Warbringer.
To save the world, they must stand side by side against the tide of war.
---
My Rating: ★★★★★
Leigh Bardugo is one of my absolute favourite authors so when I had the chance to get my hands on this book early I was beyond excited. Wonder Woman: Warbringer is absolutely everything I wanted and so much more.
It takes only a couple of chapters before we are sucked into the main plot of the story: Diana has saved Alia (a mortal) from drowning but her presence on the island is causing the Amazons to become ill. Rather than take the Oracle's warning, Diana decides to set off on a quest to not only save her Amazon sisters but to save the world from war and destruction. There is certainly plenty of action throughout this book and during some scenes I could barely breathe for fear of what was going to happen next – it kept me right on the edge of my seat! There was a great big plot twist at the end of this book that I LOVED but it also made me angry – I felt the same way the characters must have! It was really fantastically written!
From the very first pages I was completely sucked into Diana's world and life on Themyscira. Leigh's writing style is so elegant and I loved how quickly I was able to create the imagery to accompany the story in my head. Everything was described in such a rich and colourful way and it really took my breath away. It was also really great to have so many references to Greek mythology throughout the book. It's not something I had much interest in before but my interest has certainly been piqued now!
I first realised how much I was enjoying this book and its characters once Diana was in the mortal world with Alia. The differences between them and their lifestyles became apparent very quickly which lead to some really hilarious and touching moments. Diana wondering if Google is one of Alia's Gods is a moment that really got me laughing. The dialogue in the book was used so effectively to build the relationships between the characters and to give us as the reader a better glimpse into their personalities. I loved it!
The characters in this book are diverse: of the main characters almost all of them are PoC and Nim is also bisexual. There was so much to love about the characters in this book and it was great to see how they individually developed throughout the course of the book. I knew I would end up loving Diana but I didn't expect to find a whole new cast of characters to adore and it was such a great surprise.
Diana is an absolute badass and I fell in love with Alia and Nim too. All three of these ladies are intelligent, strong, resilient, independent, passionate and fiery. Alia and Nim also have a fantastic friendship and I am a huge sucker for a well-portrayed female friendship in any novel that I read. Diana, of course, is our main character from the first page and my love for her just grew and grew. I knew I would like her (she's Wonder Woman, for crying out loud) but as the story progressed I just absolutely loved her. She had such huge character development and it was lovely to see her navigating her way through new emotions and feelings towards her new mortal companions. I really appreciate that this book was written in such a way that I ended up caring for all of the main characters though and not just Diana.
With plenty of plot twists and turns, laugh out loud moments, fantastic characters and a big dollop of girl power throughout, Wonder Woman: Warbringer is sure to be a book that many will love.
Thank you to Sarah at Penguin for sending me an early finished copy in exchange for an honest and unbiased review.
---
Have you read Wonder Woman: Warbringer? Is it on your TBR?
Who is your favourite superhero?
---
---
Follow me on Twitter, Instagram, Bloglovin' or Goodreads. Comments are always warmly welcome.