Top Ten Tuesday is a weekly meme hosted by the lovely people at The Broke and the Bookish. This week's prompt is 10 books from our Fall / Autumn TBR! I've decided to go with books that are newly releasing in the coming months! I'm excited for each of these!
1. A Skinful of Shadows by Frances Hardinge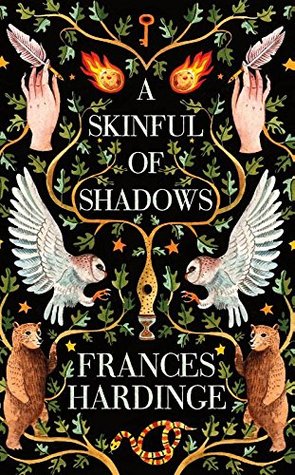 This is the story of a bear-hearted girl . . .
Sometimes, when a person dies, their spirit goes looking for somewhere to hide. 
Some people have space within them, perfect for hiding. 
Twelve-year-old Makepeace has learned to defend herself from the ghosts which try to possess her in the night, desperate for refuge, but one day a dreadful event causes her to drop her guard. 
And now there's a spirit inside her. 
The spirit is wild, brutish and strong, and it may be her only defence when she is sent to live with her father's rich and powerful ancestors. There is talk of civil war, and they need people like her to protect their dark and terrible family secret. 
But as she plans her escape and heads out into a country torn apart by war, Makepeace must decide which is worse: possession – or death.
2. The Language of Thorns by Leigh Bardugo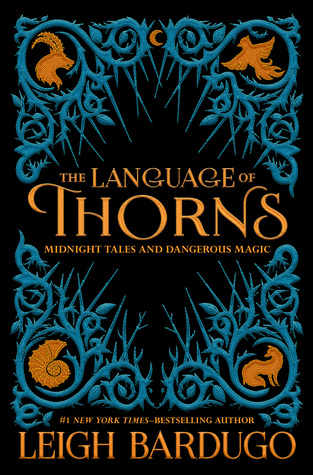 Travel to a world of dark bargains struck by moonlight, of haunted towns and hungry woods, of talking beasts and gingerbread golems, where a young mermaid's voice can summon deadly storms and where a river might do a lovestruck boy's bidding but only for a terrible price.
Inspired by myth, fairy tale, and folklore, #1 New York Times–bestselling author Leigh Bardugo has crafted a deliciously atmospheric collection of short stories filled with betrayals, revenge, sacrifice, and love.
Perfect for new readers and dedicated fans, these tales will transport you to lands both familiar and strange—to a fully realized world of dangerous magic that millions have visited through the novels of the Grishaverse.
This collection of six stories includes three brand-new tales, all of them lavishly illustrated with art that changes with each turn of the page, culminating in six stunning full-spread illustrations as rich in detail as the stories themselves.
3. One Dark Throne by Kendare Blake
With the unforgettable events of the Quickening behind them and the Ascension Year underway, all bets are off. Katharine, once the weak and feeble sister, is stronger than ever before. Arsinoe, after discovering the truth about her powers, must figure out how to make her secret talent work in her favour without anyone finding out. And Mirabella, once thought to be the strongest sister of all and the certain Queen Crowned, faces attacks like never before – ones that put those around her in danger that she can't seem to prevent.
4. Invictus by Ryan Graudin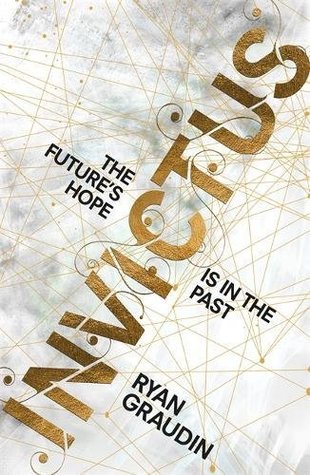 Farway Gaius McCarthy was born outside of time. The son of a time-traveling Recorder from 2354 AD and a gladiator living in Rome in 95 AD, Far's birth defies the laws of nature. Exploring history himself is all he's ever wanted, and after failing his final time-traveling exam, Far takes a position commanding a ship with a crew of his friends as part of a black market operation to steal valuables from the past. 
But during a heist on the sinking Titanic, Far meets a mysterious girl who always seems to be one step ahead of him. Armed with knowledge that will bring Far's very existence into question, she will lead Far and his team on a race through time to discover a frightening truth: History is not as steady as it seems.
5. It Only Happens in the Movies by Holly Bourne
Audrey is over romance. Since her parents' relationship imploded her mother's been catatonic, so she takes a cinema job to get out of the house. But there she meets wannabe film-maker Harry. Nobody expects Audrey and Harry to fall in love as hard and fast as they do. But that doesn't mean things are easy. Because real love isn't like the movies…
The greatest love story ever told doesn't feature kissing in the snow or racing to airports. It features pain and confusion and hope and wonder and a ban on cheesy clichés. Oh, and zombies… YA star Holly Bourne tackles real love in this hugely funny and poignant novel.
6. A Shiver of Snow and Sky by Lisa Lueddecke
On the frozen island of Skane, the sky speaks. Beautiful lights appear on clear nights, and their colours have meaning: Green means all is well, and the Goddess is happy. Blue means a snow storm is on the way.
And then there's red. Red is rare. A warning.
Seventeen years ago, the sky turned red just as Ósa was born, unleashing a plague that claimed the lives of hundreds of villagers, including her own mother. This time, when the night sky once again bleeds crimson, she must discover how to stop the onslaught before so many lives are lost again.
7. There's Someone Inside Your House by Stephanie Perkins
One-by-one, the students of Osborne High are dying in a series of gruesome murders, each with increasing and grotesque flair. As the terror grows closer and the hunt intensifies for the killer, the dark secrets among them must finally be confronted.
International bestselling author Stephanie Perkins returns with a fresh take on the classic teen slasher story that's fun, quick-witted, and completely impossible to put down.
8. Warcross by Marie Lu
For the millions who log in every day, Warcross isn't just a game – it's a way of life. Struggling to make ends meet, teenage hacker Emika Chen works as a bounty hunter, tracking down players who bet on the game illegally. Needing to make some quick cash, Emika takes a risk and hacks into the opening game of the international Warcross Championships – only to accidentally glitch herself into the action and become an overnight sensation.
Convinced she's going to be arrested, Emika is shocked when she gets a call from the game's creator, the elusive young billionaire Hideo Tanaka, with an irresistible offer. He needs a spy on the inside of this year's tournament in order to uncover a security problem . . . and he wants Emika for the job. Emika's whisked off to Tokyo and thrust into a world of fame and fortune that she's only dreamed of. But soon her investigation uncovers a sinister plot, with major consequences for the entire Warcross empire.
9. Renegades by Marissa Meyer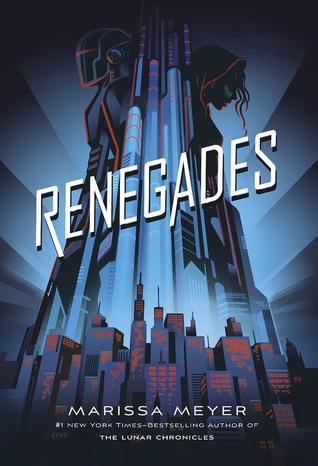 The Renegades are a syndicate of prodigies—humans with extraordinary abilities—who emerged from the ruins of a crumbled society and established peace and order where chaos reigned. As champions of justice, they remain a symbol of hope and courage to everyone…except the villains they once overthrew.
Nova has a reason to hate the Renegades, and she is on a mission for vengeance. As she gets closer to her target, she meets Adrian, a Renegade boy who believes in justice—and in Nova. But Nova's allegiance is to a villain who has the power to end them both.
10. Otherworld by Jason Segel and Kirsten Miller
The Company Welcomes you To
OTHERWORLD
The new generation of gaming.
Welcome to real life 2.0.
Are you ready to play?
There are no screens. There are no controls. 
You don't just see and hear it—you taste, smell, and touch it too.
In this new reality there are no rules to follow, no laws to break.
You can indulge your every desire.
Why would you ever want to leave?
Step into Otherworld. 
Leave your body behind.
---
What books are on your Autumn TBR?
Which Autumn releases are you looking forward to?
---
---
Follow me on Twitter, Instagram, Bloglovin' or Goodreads. Comments are always warmly welcome.