October flew by in the blink of an eye. It was by far the most difficult month of 2017 for me in my personal life and I am glad to have reached November and hopefully start to close the door on a difficult month. That being said, I have taken plenty of time to myself to read and surpassed my goal of reading 8 books with ease.
---
Number of Books read: 12
Number of Pages read: 4,084 pages
I read a really wide variety of books this month from contemporary to classics, horror to fantasy. There was a bit of something for everyone and it perfectly represents my reading habits – I will read just about anything! There were some incredible books this month including the 2018 releases The Extinction Trials and Goodbye, Perfect – definitely two books to have on your 2018 TBR piles! There were also a few that fell really flat for me and that included Slasher Girls & Monster Boys and the highly anticipated There's Someone Inside Your House. You'll see from my star ratings that there are more 3* reviews than usual but I did enjoy most of what I read this month. The biggest surprise for me was Jane Eyre which had been on my tbr FOREVER and I devoured it in a day and just loved it!
One Dark Throne by Kendare Blake – ★★★★★
Michael's Spear by Hilton Pashley – ★★★    (review to come)
Goodbye, Perfect by Sara Barnard – ★★★★★    (review to come)
Frozen Charlotte by Alex Bell – ★★★★ 1/2
Heartburn by Nora Ephron – ★★★
A Skinful of Shadows by Frances Hardinge – ★★★★   (review to come)
The Extinction Trials by S.M. Wilson – ★★★★★    (review to come)
Charlotte Says by Alex Bell – ★★★★    (review to come)
Slasher Girls & Monster Boys edited by April Genevieve Tucholke – ★★   (review to come)
Jane Eyre by Charlotte Bronte – ★★★★★
Keep an eye out for those upcoming reviews – they will be published soon!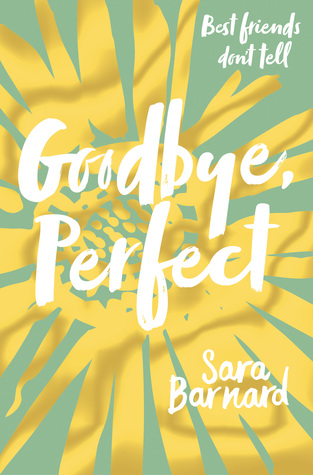 This was the EASIEST decision to make. Anyone who knows me will know that I love Sara Barnard's writing and her first two novels are two of my favourite books. When I was lucky enough to receive a proof of Goodbye, Perfect which isn't released until 2018 you can only imagine how much I squealed! I immediately picked it up and devoured the whole thing in one sitting – it was IMPOSSIBLE to put it down! This is Sara's best yet. The characters are incredible (Eden is definitely a new fave), the plot was interesting and intense from beginning to end and I juts ADORE the way Sara writes relationships of any kind whether it be family, friends or a gorgeous romance. This book should be called HELLO, PERFECT!
The end is most definitely in sight for my Goodreads challenge. I've kind of given up hope on completing the bottom 2 challenges but I don't mind, the books I did manage to read were fun and I'll be keeping the others on my TBR for future reads.
Here are my posts from this month in case you missed any (I've not included my Sunday Summary's or WWW but click on the title to find them all)! I'd love to hear what you think about the content I post and whether there is anything you'd like to see more of. I promise I am planning more Bullet Journal posts!!
Book Reviews
Amelia Fang & the Barbaric Ball | Ink | The Language of Thorns | One Dark Throne | There's Someone Inside Your House | Scarecrow | Frozen Charlotte |
Top 10 Tuesday Posts
10 Books with Tough Topics | 10 Books with Autumn Covers | 10 2017 Releases I'm Yet to Read | 10 Books with Unique Titles | 10 Creepy Books on my TBR
Book Tags (feel free to tag yourselves!)
The Fall Book Tag | My Name in Books | The Hocus Pocus Book Tag
Other Posts
Exciting October Releases | Halloween Readathon TBR | September Bullet Journal & October Set Up | Down the TBR Hole #3 | Down the TBR Hole #4 | Scarecrow Blog Tour | Halloween Readathon: Wrap Up
Usually I include my TBR on this post but I'm going to do something more focussed this month so I'll be sharing my TBR and reading plans in a few days time – keep your eyes peeled!
I'll be posting my new bullet journal monthly spreads in a few days too, I'm really proud of how it is looking. I'll hopefully be doing a post about how I use my journal to help with tracking my bookish habits too. Let me know if there's anything else you would like to see!
---
---
What were your favourite reads in October?
Did we read any of the same books?
---
---
Follow me on Twitter, Instagram, Bloglovin' or Goodreads. Comments are always warmly welcome.