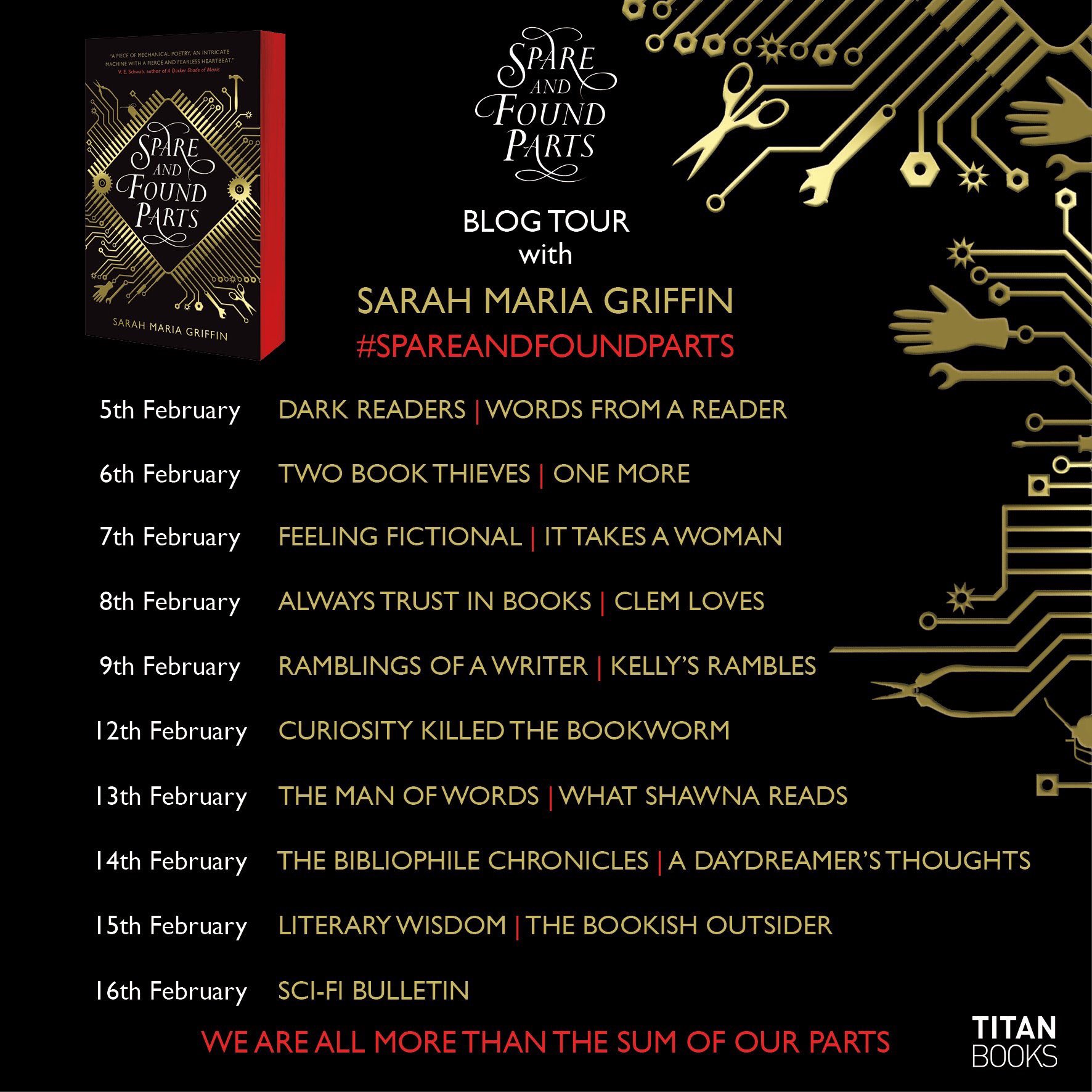 Hi everyone! Today I'm here for my stop on the #SpareandFoundParts blog tour to celebrate the release of this fabulous book! You can find my review below and be sure to check out all the other stops on the tour along the way. Check my Twitter from 9am for your chance to win 1 of 2 copies of the book courtesy of the lovely people at Titan Books!
---
---
Spare and Found Parts

Author: Sarah Maria Griffin
Genre: YA, Sci-Fi, Fantasy
Publisher: Titan Books
Publication Date: February 6th 2018
Format: Paperback (416 pages)
---
Synopsis:
Nell Crane has always been an outsider. In a city devastated by an epidemic, where survivors are all missing parts—an arm, a leg, an eye—her father is the famed scientist who created the biomechanical limbs everyone now uses. But Nell is the only one whose mechanical piece is on the inside: her heart. Since the childhood operation, she has ticked. Like a clock, like a bomb. As her community rebuilds, everyone is expected to contribute to the society's good . . . but how can Nell live up to her father's revolutionary idea when she has none of her own?
Then she finds a mannequin hand while salvaging on the beach—the first boy's hand she's ever held—and inspiration strikes. Can Nell build her own companion in a world that fears advanced technology? The deeper she sinks into this plan, the more she learns about her city—and her father, who is hiding secret experiments of his own.
---
My Rating: ★★★★
I didn't really know what to expect when I first picked up this book to start reading. The cover is absolutely gorgeous and those red sprayed edges were already winning me over. I had read the blurb and was initially quite intrigued but it didn't take long before Spare and Found Parts had my full attention!
Spare and Found Parts is set in a post-technology world and this concept really interested me from the get go. As we live in a world so embedded with and around technology, it seems impossible to think of a world without it. But the idea of a world without technology because it had gotten to a point where it was taking over and caused significant damage to the world? Talk about an idea that could potentially be written in our future!! I loved how this theme was carried throughout the book with the majority of characters truly fearing computers and internet – not even being about to talk about it. Nell, on the other hand, is fascinated by it and can't help but wonder why others don't want technology back to improve their lives so she embarks on a mission to make her contribution to society one that nobody will forget.
The beginning of the book was pretty slow in comparison to the last 50 or so pages where everything seemed to be revealed and all the twists and turns seemed to happen. This isn't necessarily a bad thing as the world is really nicely set up and I definitely found it interesting. Nell doesn't actually start to build her new companion until almost halfway into the book so be prepared for that. The book does move along really quickly towards the end and a lot happens that will have your attention completely absorbed in the story and a few twists and turns I wasn't anticipating managed to sneak their way in too! Overall I really liked the story and concept a lot.
Nell is such a brilliant main character. She is driven, ambitious and passionate as well as trying to be a good daughter and friend, she is forced to be independent and I admired how strong-willed she was, even when people thought she was a bit bonkers! Io seemed pretty adorable and I have to admit that I wouldn't mind having my own Io around. I didn't really connect with Oliver Kelly's character at all but I was actually really glad that this book didn't have much of a romantic arc at all and that the focus was purely on Nell. Ruby felt like such a real and vibrant character and I really liked her and Nell's friendship – they both make mistakes but manage to forgive each other, just as true friends do.
"We are all more than the sum of our parts"
Spare and Found Parts is a dark glimpse at a could-be future which is laced with themes of deceit, family, friendship and finding yourself. The girl with the bionic heart definitely captured my own heart.
Thanks to Lydia at Titan Books for my copy in exchange of a fair and honest review and for inviting me to be a part of the blog tour.
---
Have you read Spare and Found Parts? Will you be adding it to your TBR?
Do you think you could live in a world without technology?
Don't forget to check my Twitter at 9am for a chance to win your own copy!
---
---
Follow me on Twitter, Instagram, Bloglovin' or Goodreads. Comments are always warmly welcome.