Hi everyone! Today I am DELIGHTED to have debut author Sophie Cameron taking part in my Fandom Frenzy feature as part of the blog tour for her newly released novel Out of the Blue. I've heard only BRILLIANT thing about Sophie's book and I know I can't wait to dive into it this weekend!
Be sure to check out more information about Sophie's debut novel after reading her post!
What fictional world would you most like to find yourself in?
Lyra's world from His Dark Materials, mostly so I could have the alethiometer and a daemon. It'd be either a Siamese cat or a pink robin.
Which characters in that world would you choose to be your closest allies? Why?
I like angels a lot, so I think I'd probably try to get in with Balthamos and Baruch. They'd be pretty useful to have on your side – they can fly and transform, which is handy, plus they have all the insider info on heaven. I like the Gyptians a lot, too, they're trustworthy. I also like the idea of living on boats.
Which characters do you think would be your enemies? (This doesn't have to be the 'canon' villain!)
My enemies would be the same as Lyra's, but I think it might take me longer to notice… I'm not as perceptive as she is, and probably more trusting, so I think it'd take a while for the truth about Mrs Coulter to click, for example.
How do you think you would cope walking in the shoes of that fandom's protagonist?
Very badly! Lyra is much more adventurous and braver than I am. I'm not a good liar, either, which is really what keeps her alive in the first book. I do really like travelling, though, so I'd be happy to go off on her adventure, and I think I'd be able to read the alethiometer pretty well with a bit of practise.
Which part of the story would you most like to try and change as the new protagonist? (Try and keep it spoiler free!)
I'd try to stop a certain death at the end of Northern Lights… then again, it is the catalyst for everything that happens next, so that's maybe not a great idea. I'd try and work out a way for two characters to stay together at the end of The Amber Spyglass, too. It's been almost eighteen years since I first read it and I'm still not over that ending.
BONUS: Which fictional world wouldn't you like to find yourself waking up in? Why?
Definitely not the world of The Handmaid's Tale or The Hunger Games, for obvious reasons!
Such a great choice from Sophie! I would love to have a daemon of my own but I'm not sure what animal I would want. Probably something I could also snuggle up with or an owl would be really awesome!
---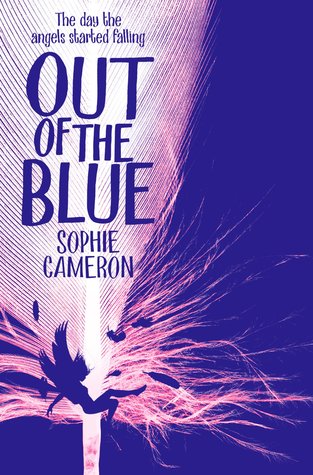 Out of the Blue

Author: Sophie Cameron
Genre: YA, Fantasy
Publisher: MacMillan Children's Books
Publication Date: 22nd March 2018 (UK)
Format: Paperback (288 pages)
---
A HUGE thanks to the lovely Sophie for participating in this feature. Be sure to check her out on Twitter (@toomanysophies), Instagram and her website! And don't forget to check out the rest of the stops on her blog tour – huge thanks to the lovely Nina for inviting me to take part!
---
---
Follow me on Twitter, Instagram, Bloglovin' or Goodreads. Comments are always warmly welcome.