Hi everyone! For today's #FandomFrenzy I am delighted to have YA (and soon to be MG) author Carlie Sorosiak. I adored Carlie's debut novel If Birds Fly Back and cannot wait to read her second novel Wild Blue Wonder which releases very soon!
Carlie has very bravely put herself into the world of G.R.R. Martin – I'm not sure I'd survive very long in this world at all. Let's see how Carlie gets on…
What fictional world would you most like to find yourself in?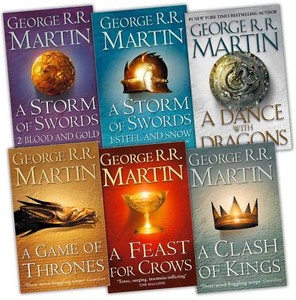 This took me so long to decide! The obvious answers for me are Harry Potter or The Magicians, but in the interest of keeping things a challenge, I'm going to choose Game of Thrones – even though I'd be terrified the whole time.
Which characters in that world would you choose to be your closest allies? Why?
I would be forever loyal to Daenerys Targaryen because, duh, she has dragons. And dragons are pretty much the coolest things ever. I would also choose Arya Stark as an ally because she is just so brilliant.
Which characters do you think would be your enemies? (This doesn't have to be the 'canon' villain!)
I don't think that Cersei Lannister and I would get along very well – although I do admire her strength and determination. Ramsay Bolton is the pinnacle of evil, so yeah, I wouldn't want to encounter him in a dark alley.
How do you think you would cope walking in the shoes of that fandom's protagonist?
What I love about Game of Thrones is there are so many protagonists – so many people to root for. I think that I'd cope pretty terribly in Daenerys's role: she has nerves of steel, and I have nerves of spaghetti. But I do like to think that I'd be a natural with dragons.
Which part of the story would you most like to try and change as the new protagonist? (Try and keep it spoiler free!)
Oh, this is such a difficult question! Everything I want to say has spoilers! So let's go for: try to breed more baby dragons, because ADORABLE. (Can you tell I'm obsessed?)
BONUS: Which fictional world wouldn't you like to find yourself waking up in? Why?
Star Wars, I think. I don't even like flying around in airplanes, much less spaceships.
Something tells me that Carlie is a bit of a dragon fan… I'd definitely want to be on team Arya or Daenerys and I'd be TERRIFIED of Cersei. She's a badass but a scary badass!
A HUGE thanks to the lovely Carlie for participating in this feature. You can find out more about Carlie and her books on her blog, instagram and follow her on Twitter too!
---
If you're interested in participating in this feature, please contact me via Twitter (@kellysrambles) or email me: kellysrambles@gmail.com I'd love to spread #FandomFrenzy far and wide!
---
---
Follow me on Twitter, Instagram, Bloglovin' or Goodreads. Comments are always warmly welcome.