The first week of October is nearly over and today I thought I'd share with you which books I added to my various shelves in September. I still can't believe that publishers want to send me books, it really is a dream come true! I also treated myself to several books last month as well as picking up a couple of pre-orders!
Let's start with the beautiful book post I've received from various publishers and publicists over the last month.
The super lovely Lydia at Titan Books has really spoilt me recently! First of all she sent over an early copy of A Blade So Black by L.L. McKinney which sounds wonderful. Don't forget to check out the exclusive extract I shared as part of the blog tour earlier this week. Then I SCREAMED when I saw that Lydia had emailed me about an early hardback copy of Vengeful by V.E. Schwab. You all know I'm a huge fan so I cannot believe that I was sent this book!! It is enormous but oh so beautiful and I'm excited to dive in this month!
The next two books are from Kirsten at Barrington Stoke. Race to the Frozen North by Catherine Johnson and Stay A Little Longer by Bali Rai both sound so interesting. My favourite thing about Barrington Stoke books are the fact they are dyslexia friendly and so utilise a friendly reading font and yellowed pages. Once I've read these books I'm hoping to snap up some author interviews for you all! Watch this space.
Sarah from Egmont (love these guys so much) sent me over an early finished copy of Villain by Michael Grant. I've not read his Gone series but I am a big fan of his Front Lines series so I'm intrigued by this one!
Next up is this spooky Halloween treat from Andersen Press. This gorgeous copy of Mary and Frankenstein came with an exclusive art print which is just gorgeous. This one is going on my October reading pile for a bit of a Halloween feel!
These two books were sent to me by the lovely folk at Abrams & Chronicle Books. I've heard SO much about Giant Days by Non Pratt. I'm looking forward to reading this even though I haven't read the graphic novels the book is based on. The second book they sent me was The Backstagers by Andy Mientus which looks like another quick and fun read.
As I said above, I definitely treated myself to a few books this month that I knew I wanted to buy. I also had a gift card to spend so put it to good use as well as picking up a couple of pre-orders from my local Waterstones.
I managed to snag myself two amazing sounding YA contemporaries on the Waterstones deal: Girl in the Window by Penny Joelson and Rosie Loves Jack by Mel Darbon. I've heard great tings about both of these books. I've also bought myself a copy of Say Her Name by Juno Dawson which looks and sounds absolutely terrifying. It will be the perfect Halloween read (or I'll be crying, either way!).
These two stunning middle grade books were ones that I had already pre-ordered and I cannot get over how gorgeous they are. I ahve already read and loved Tilly and the Bookwanderers by Anna James – watch out for a gushing review soon. My copy of The Way Past Winter by Kiran Millwood Hargrave arrived super early and it'll be the perfect Autumn read by the sounds of things.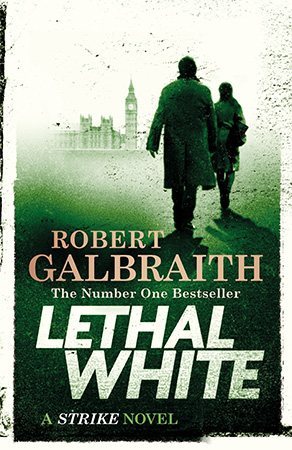 I also bought myself a copy of Lethal White by Robert Galbraith which is the next book in the Strike series. I love these books and although I rarely read adult novels, I knew I needed this one to read soon. The hardback is too big and wouldn't match my paperbacks so I've settled for the ebook until a paperback is released to add to my collection.
I have actually been really well behaved on NetGalley for once and only added three books to my shelf during the whole of September. I've actually managed to read a few too so that works out well. I have to thank the wonderful Nina Douglas for giving me early access to Two Dark Reigns by Kendare Blake. I love this series!!
And there we have my September book haul! I'm hoping to get more read in October than I did last month and hope to get to a few of the titles I've mentioned here. A huge thank you to all the lovely publicists who have sent me books this month!
What books did you add to your shelves in September?
Did we haul any of the same books? Have you read any of these yet?
---
---
Follow me on Twitter, Instagram, Bloglovin' or Goodreads. Comments are always warmly welcome.