I've decided that each Sunday evening I'll be posting a Weekly Wrap-Up where I can reflect on the previous week and bring together everything from my books, films and TV as well as any personal highlights. So here it goes!
Books of the Week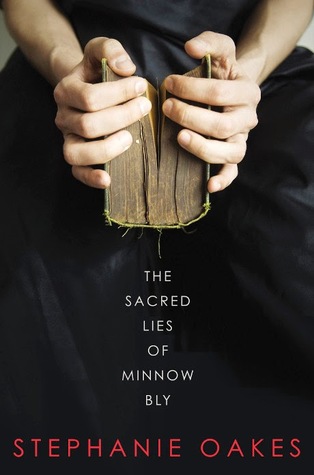 I've been on a bit of a spree this week. I've now read 5 books this year and am on my sixth and seventh at the moment. I started off with some shorter stories but yesterday I started The Sacred Lies of Minnow Bly and I CANNOT begin to explain how much I am loving this book. I'm finding it hard to put down. The story is SO interesting, I have always had a kind of fascination with cults and how they work and so far this book is totally living up to the amazing reviews I saw of it. I love how complex Minnow's character is, although at times I've cringed slightly at some of the gory descriptions. Can't wait to see how this one ends!
Films of the Week
I've only watched one film since Monday
and it was this afternoon. I watched Sisters with my sister (appropriately). Oh my God, it was absolutely hilarious! I love both Tina Fey and Amy Poehler and I knew this film would be funny, but I was crying with laughter and my face hurt so much by the end. I already know it will become one of my favourites for when I need a pick me up. I've only watched 3 films out of the 100 I plan to watch this year, but you'll see why when you get to the TV section …
TV of the Week
For anyone who has checked out my watch-list, you'll know I have a fairly long list of shows that I watch. Due to being busy in the week, the weekend is my dedicated 'TV-catch-up' time. This week I had the following shows to catch up on:
American Horror Story: Hotel (S05e11)
Chicago Fire (S04e10)
Girlfriends Guide to Divorce (S02e5 & 6)
New Girl (S05E01)
I loved seeing New Girl back this week. It feels like an absolute AGE since it was last on. I love these little episodes of pure hilarity thanks to Zooey Deschanel. She is not only adorable, but hilarious.
Newest Addiction: I have spent MOST of my free time this weekend watching the new documentary series on Netflix Making a Murderer. I had seen a fair amount of people talking about this in work and on social media and decided to give it a whirl. Eight episodes later (only 2 to go!) I am absolutely gobsmacked by what I am seeing. Some of the things these people have gotten away with are shocking. I find it hard to believe that it is all real because of the shock I feel when I watch each episode. I won't give much away as I'll write a review when I finish, but if you haven't seen it, I highly recommend it! 
Blogposts of the Week
Finally…
I'm impressed that I'm managing to balance this blog as well as maintaining my other blogs over on tumblr. I'm also managing to keep my 2016 positive journal up to date every day (helped by how pretty it looks!). Thanks for reading!
---
Feel free to follow me on Twitter, Goodreads or Tumblr. Comments are always warmly welcome.