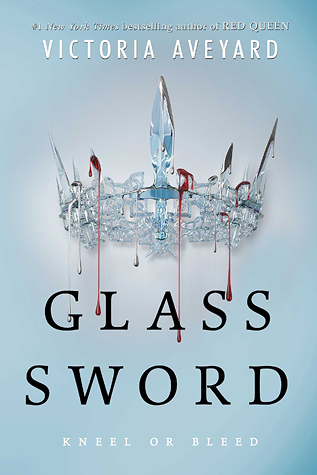 Glass Sword

Author: Victoria Aveyard
Genre: Young Adult, Fantasy
Originally Published: 9th February 2016
Format: ARC (448 pages)
---
Synopsis: Mare Barrow's blood is red—the color of common folk—but her Silver ability, the power to control lightning, has turned her into a weapon that the royal court tries to control. The crown calls her an impossibility, a fake, but as she makes her escape from Maven, the prince—the friend—who betrayed her, Mare uncovers something startling: she is not the only one of her kind.
Pursued by Maven, now a vindictive king, Mare sets out to find and recruit other Red-and-Silver fighters to join in the struggle against her oppressors. But Mare finds herself on a deadly path, at risk of becoming exactly the kind of monster she is trying to defeat.
Will she shatter under the weight of the lives that are the cost of rebellion? Or have treachery and betrayal hardened her forever?
---
My Rating: ★★★★
If you enjoyed Red Queen then you are sure to enjoy the second instalment in this fantasy series by Victoria Aveyard. Glass Sword follows Mare, Farley, Shade, Cal and Kilorn as they continue their quest and go in search for Newbloods. In their adventure, we get to learn about the numerous skills the Newbloods are blessed (or cursed?) with and meet more friends along the way. We learn more about the world of the Silvers, Reds and Newbloods. Maven is as cruel as ever, Elara is still a manipulative and loathsome character and Cal struggles with his feelings for the Silvers and helping Mare. Our lightning girl finds herself a source of inspiration and hope to some, whilst others despise and oppose her very existence in their world.
This book is full of action from the very beginning. There are many vicious battles between the Silvers and Mare's group of Newbloods. We also see tensions rise between the Scarlet Guard and the Newbloods, as people of all blood type become fearful of the newly discovered Newbloods and their unknown power.  Maven is as cruel as ever, living up to his name at the end of Red Queen. In fact the end of this book left me in no doubt that he will potentially be one of my most loathed fictional characters – although I do love to loathe him!
There is plenty of romance in this novel for those who are interested in it. For me, it didn't take away from the main action and story. In fact it was fairly easy to overlook it if you weren't interested. Mare still struggles with her feelings for Cal, Kilorn and occasionally Maven. While Farley develops feelings over her own for another Newblood.
One of the few significant deaths in this novel has still got me reeling! I was shocked and slightly devastated to say goodbye to this character at this point in the series, but Aveyard obviously had her reasons for it.
The ending of Glass Sword has left me gagging for the next instalment. Aveyard proves herself to be a Queen of cliffhangers at the end of this one.
As this is planned to be a four book series I'm interested to see where she will take this story as this book felt more like the second novel in a trilogy, but there are still plenty of loose ends that need tying up. I just hope the third novel won't be stretched out just to make a fourth.
What did I love most about the book?
One of my favourite things about the book is how we see Mare's constant struggle with wanting to do the right thing but also having to do what she feels is necessary. She constantly makes questionable choices and the way she approaches certain situations sometimes makes me despise her. She is far from perfect, in fact, at times I really dislike her, but this only makes me enjoy her character more. I absolutely adore a strong female lead and Mare really does fit the bill for me.
Memorable Quotes
"It isn't hard to let people die when their deaths give life to something else."
"Anyone, anything, can betray anyone. Even your own heart."
"No one is born evil, just like no one is born alone. They become that way, through choice and circumstance."
Final Thoughts
A fast paced and exciting read for fans of Red Queen. I don't think many will be disappointed, although I must admit it was the last 25% of the book which really pulled it out of the bag for me! Thanks to Netgalley and publishers for my ARC.
Have you read Glass Sword yet? What did you think?
---
Feel free to follow me on Twitter or Goodreads. Comments are always warmly welcome.