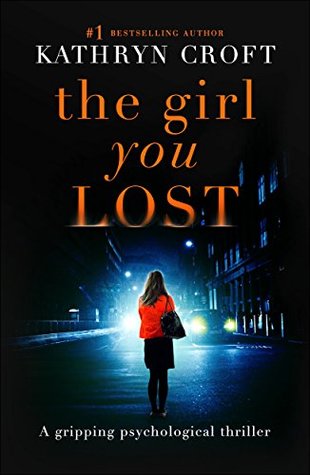 The Girl You Lost

Author: Kathryn Croft
Genre: Mystery, Thriller
Originally Published: 5th February 2016
Format: eARC (318 pages)
---
Synopsis: Eighteen years ago, Simone Porter's six-month-old daughter, Helena, was abducted. Simone and husband, Matt, have slowly rebuilt their shattered lives, but the pain at losing their child has never left them.
Then a young woman, Grace, appears out of the blue and tells Simone she has information about her stolen baby. But just who is Grace – and can Simone trust her?
When Grace herself disappears, Simone becomes embroiled in a desperate search for her daughter and the woman who has vital clues about her whereabouts. Simone is inching closer to the truth but it'll take her into dangerous and disturbing territory.
Simone lost her baby. Will she lose her life trying to find her?
---
My Rating: ★★
Let me start by saying that I didn't hate this book. In fact, I really liked the concept the author had. A baby who was snatched 18 years ago finally makes contact with her estranged mother, only to reveal she is in trouble and needs help? Sounds great. Enormous potential here for an emotionally driven and exciting mystery novel. But for me, it didn't quite live up to my high expectations.
Okay, aside from the concept, what did I like about the book?
1. The chapters written from the POV of someone who is quite clearly a deeply troubled and terrible person. These chapters, while difficult to read (be prepared for descriptions of violent rape), made this book interesting. I was really intrigued as to who this person was and I thought these chapters were brought together nicely at the end.
2. I thought the author did well to link together a couple of different storylines quite nicely. The missing girl Charlotte was neatly weaved into Simone and Grace's story and it didn't feel too forced. It seemed quite natural that Grace's disappearance should be part of a bigger picture.
On the other hand, there were quite a few things that didn't quite work for me.
1. An enormous lack of emotion. If someone is potentially reunited with a daughter they lost 18 years ago you would expect a hugely emotional reaction from them. Simone seemed to lack these emotions and I was searching desperately for them. There was plenty of action from her character, but aside from the occasional questioning of whether Grace was genuine and a few tears shed here or there, I felt the whole thing lacked the emotion that needed to be there for me to make a connection.
2. Predictable. Maybe this won't be the same for everyone, but the 'big twist' at the end did not come as a surprise to me. I had guessed by around 40% who had abducted Helena as a baby and who the final piece of the jigsaw was. I also thought that the lead up to the big reveal was boring. I mean, telling someone to keep looking through a box of items seems a little lazy to me. I would have loved Simone to have this revealed to her in a much more shocking way.
3. It ended really quickly. We spent the whole book building up to finding Grace and discovering all sorts of horrors along the way, but as soon as Grace is found the story is over. We learn nothing of her disappearance and we get little to no emotion from Simone, again. Considering what is revealed at the end, I was expecting some immediate reaction rather than going straight to an epilogue.
Final Thoughts
On the whole, I feel that I didn't quite get from this book what I was hoping for. I wanted a fast-paced, emotional, dark and heart-wrenching read about a mother reunited with her long-lost daughter who is in turmoil. The action was good but I needed more emotion. I love nothing more than a strong connection with a character, but I didn't feel that with Simone and, in order to truly enjoy this book, I needed it.
If you are not searching for an emotionally charged and intensely suspenseful novel, then maybe you'll enjoy this. However, this wasn't the book for me.
Thanks to Netgalley, Bookouture and the author for my copy in exchange for an honest opinion.
Have you read The Girl You Lost? What did you think?
---
Feel free to follow me on Twitter or Goodreads. Comments are always warmly welcome.