Books of the Week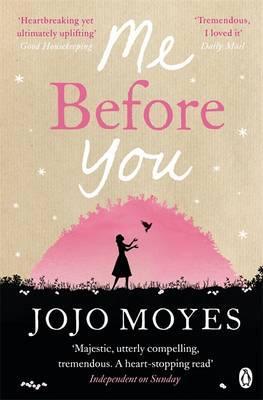 The first book I finished reading this week was Me Before You by Jojo Moyes. This was my first experience of Jojo Moyes and I cannot wait to read more. This book made me laugh and cry hysterically. It damn near broke my heart and I couldn't help but cry. I'm really looking forward to seeing the movie as soon as it's out and sobbing into a million tissues!
Yesterday I read two shorter books. The first stop was Coraline by Neil Gaiman and I thoroughly enjoyed this creepy little book. I thought it was a mysterious and thrilling ride from beginning to end. My copy had the most gorgeous illustrations too. They were both creepy and fascinating. I plan to rewatch the movie soon. The second book I read yesterday was When You Reach Me by Rebecca Stead. I, personally, did not really like this book that much. It was okay, but I thought it was fairly predictable and I didn't feel a connection to the characters. I think I needed to be younger to be more excited by this book.
This morning I FINALLY started reading A Darker Shade of Magic and I am really enjoying it so far. I'm about 1/4 of the way through it and really loving the writing style and magical worlds that I'm being introduced to. Can't wait to see where the story will go!
---
Films of the Week
The only movie I've watched this week is Harry Potter and the Order of the Phoenix. I needed a movie to keep my company while I did some work and this was the one I ended up choosing. It's one of my favourite Harry Potter movies and the book is definitely one of my favourites too. I love seeing how they brought Dumbledore's Army to the big screen and I love all the Patronus scenes and touching scenes between Harry and Luna. There's a lot to love about this movie!
TV of the Week
So my week consisted of the following TV shows:
I cannot bring myself to say anything other than how sad I am about The Good Wife coming to an end. It has been one of my favourite shows for the last 4/5 years and I'm really sad to have said goodbye. I will always love Diane Lockhart and Alicia Florrick quite fiercely and I love that the whole series ended with that scene between them. I just wanted to wrap Alicia in my arms and keep her safe forever. I'm definitely feeling a rewatch this summer!
Blogposts of the Week
Finally…
Um, so yet another one of my shows will not be returning for another season. I guess it was only a matter of time until Castle was cancelled, especially considering that both Stana and Tamala were not returning. I'm still sad about it though. I've been watching Castle for nearly 6 years so it really does feel like the end of an era. Here's to hoping this final section won't contain the news of more cancellations next week!
Do you have any opinions on the above books? Or maybe you've seen one of the same movies as me or are a fan of the TV shows I watch? Get in touch! 
---
Feel free to follow me on Twitter or Goodreads. Comments are always warmly welcome.