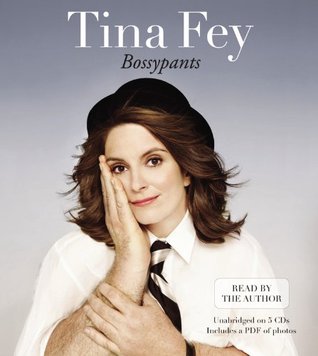 Bossypants

Author: Tina Fey
Genre: Non-Fiction, Memoirs, Autobiography
Originally Published: April 5th 2011
Format: Audiobook
---
Synopsis: Before Liz Lemon, before "Weekend Update," before "Sarah Palin," Tina Fey was just a young girl with a dream: a recurring stress dream that she was being chased through a local airport by her middle-school gym teacher. She also had a dream that one day she would be a comedian on TV. She has seen both these dreams come true.
At last, Tina Fey's story can be told. From her youthful days as a vicious nerd to her tour of duty on Saturday Night Live; from her passionately halfhearted pursuit of physical beauty to her life as a mother eating things off the floor; from her one-sided college romance to her nearly fatal honeymoon—from the beginning of this paragraph to this final sentence.
Tina Fey reveals all, and proves what we've all suspected: you're no one until someone calls you bossy.
---
My Rating: ★★★★
I really enjoyed this touching and hilarious memoir from Tina Fey. I'm glad I chose to listen to the audiobook version as hearing the story in Tina's own voice really made this a great, funny experience. Tina's sense of humour is right up my street and I found myself laughing out loud on more than several occasions throughout this book. I've been a fan of Tina for quite a while now and I'm a big fan of her work on SNL, 30 Rock and her numerous movies. I've always admired her and Amy Poehler's friendship and loved hearing more about their work on SNL.
I learnt a lot about Tina from this book, but most of all I have fallen more in love with her. She was honest and critical, poking fun not only at others but also herself and she discusses a wide variety of topics from motherhood and ageism, to breastfeeding and media ideals. I really adored the way in which she explored each topic honestly but with her edgy humour always apparent. I was really pleasantly surprised by just how strong the feminist thoughts were that flowed through this book without it being completely thrown in your face. Tina Fey, I bow down to you.
What did I love most about the book?
I think my favourite thing was the experience of listening to this as an audiobook. It really made for a unique experience to hear Tina reading her memoirs aloud. She is such a great comedian and I found myself laughing hilariously on more than a few occasions during my listening. Her straight-up honesty was refreshing as she gave her opinions and experiences on a variety of subjects.
Memorable Quotes
"Do your thing and don't care if they like it."
"Some people say, "Never let them see you cry." I say, if you're so mad you could just cry, then cry. It terrifies everyone."
"If you retain nothing else, always remember the most important rule of beauty, which is: who cares?"
"Whatever the problem, be part of the solution. Don't just sit around raising questions and pointing out obstacles."
Final Thoughts
A touching and hilarious memoir from Tina. I'm hoping there will be another one in the future!
Have you read Bossypants? What did you think?
---
Feel free to follow me on Twitter or Goodreads. Comments are always warmly welcome.