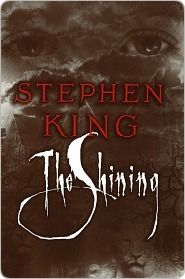 The Shining (The Shining #1)

Author: Stephen King
Genre: Horror, Fiction, Thriller
Originally Published: January 28th 1977
Format: eBook (448 pages)
---
Synopsis:
Danny was only five years old but in the words of old Mr Halloran he was a 'shiner', aglow with psychic voltage. When his father became caretaker of the Overlook Hotel his visions grew frighteningly out of control.
As winter closed in and blizzards cut them off, the hotel seemed to develop a life of its own. It was meant to be empty, but who was the lady in Room 217, and who were the masked guests going up and down in the elevator? And why did the hedges shaped like animals seem so alive?
Somewhere, somehow there was an evil force in the hotel – and that too had begun to shine…
---
My Rating: ★★★★
I had been toying with the idea of reading this book for quite some time before I actually picked it up. I have been a fan of the film adaptation for a while now and with Halloween fast approaching I thought this was the perfect time of year. I have only read two other King novels previous to The Shining and I've enjoyed his writing style.
I found the first 30ish pages seemed to take me FOREVER to read. In fact, I was very close to giving up as I was convinced it would end up taking me weeks to finish this book having only succeeded with a few chapters in a few hours. However, knowing how much I enjoyed the movie and that things were sure to pick up pace, I stuck with it. Little did I realise how addictive this book was going to be. One minute I was on page 33, a couple of hours later I had read over 200 pages. Then I ended up sat late into the night to get it finished.
Despite the slow start and a few chapters which felt a little irrelevant, the suspense and horror build beautifully in this book. King really is a master of suspense. I loved how, as readers, we subtly detect the changes in Jack's personality as the Overlook starts to take hold of him. The constant wiping of his lip, the muttering to himself, the vivid visions he has of the murder of his wife and son. These build slowly over time and lead us to a hell of a conclusion at the end.
I liked the family dynamic in this book. They were by no means an ideal family at all but a family who were fighting for each other. Even at the very end, Danny does not want to give up on his Daddy. I liked Danny as a character and I was interested by the concept of his 'shine', although I did frequently forget that he was supposed to be five years old. There was a huge amount of dialogue with Danny in the book which I wasn't expecting as he is more quiet in the movie.
Memorable Quotes
"Sometimes human places, create inhuman monsters."
"Monsters are real. Ghosts are too. They live inside of us, and sometimes, they win."
"Small children are great accepters. They don't understand shame, or the need to hide things."
Final Thoughts
This book is full of plenty of creepy scenes and definitely gave me those horrible shivers down my spine at times. All in all this was a great book and I can see why it is such a popular read. With The Shining, King has created a terrifyingly horrific story that will stay with me for a long time.
Which of King's books do you recommend I read next? 
---
Feel free to follow me on Twitter, Instagram or Goodreads. Comments are always warmly welcome.