Hi everyone! Those of you who follow me on Twitter (@kellysrambles) will probably have seen my numerous tweets about the readathon I've been participating in since Tuesday. The lovely Rachel (@_sectumsemprah) has been hosting this wonderful Christmas readathon between the 27th and 30th December and it's been so much fun. 
Christmas is one of those rare times where I get some down time completely to myself. When I saw that Rachel was going to host the #SundayYAthon I couldn't resist. I immediately signed up to complete all 5 of the prompts and eventually decided on my TBR. For this readathon, we were able to use one book for more than one prompt as long as it fitted appropriately. Check out the graphic below with the prompts on (all credit to Rachel!).
I am so pleased that I managed to read through each of the books on my TBR before the end of the readathon, although I would not have minded if I hadn't. By far the best thing about this readathon has been getting to know all of the other wonderful participants as Rachel added us all to a DM group and we've had such a blast. I also want to thank everyone involved for all of the support and general loveliness. You are all wonderful! Without further ado, here are my rambling thoughts on the books I read!
My True Love Gave to Me: Twelve Winter Romances
edited by Stephanie Perkins
★ ★ ★
This is a lovely collection of short stories featuring a host of well known YA authors such as Stephanie Perkins, Laini Taylor, David Levithan and Rainbow Rowell.
Whilst I totally adored some of the stories, there were a few that just weren't quite my cup of tea. Something that I completely loved about this anthology was how wonderfully diverse it is. Varying in different gender leads, sexuality, races and religions, there is something in here for everyone.
You can find my broken down mini reviews of each story on my Goodreads review.

New Book                                     

Short Story Collection
The Twelve Days of Dash and Lily
by Rachel Cohn and David Levithan
★ ★ ★
This book was a sweet sequel to Dash and Lily's story. It was a really quick read and definitely filled me with plenty of Christmassy feelings. As a couple, Dash and Lily continue to be completely adorable and I particularly enjoyed the last 90ish pages of the book.
The first half of the book felt long and wasn't quite the cosy read I had been hoping for. It wasn't difficult to read but it did seem to lack the cuteness and magic from the original story. This picked up much better in the second half and I very much liked how this ended.
All in all this is a lovely Christmassy read.

 A Christmas novel
Solitaire
by Alice Oseman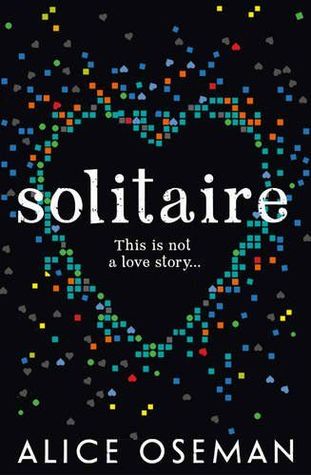 ★ ★ ★ ★ ★
In my eyes Alice Oseman can do no wrong. I fell in love with her writing when I read Radio Silence at the beginning of the year so to say that I went into this book with exceptionally high expectations would be an understatement. All I can say is that I was not disappointed.
The first thing I need to point out is that as well as being a human being, I am also a high school teacher. I think this makes a world of difference when reading a book like this sometimes. Not only can I relate to some of Tori's deepest emotions and feelings on a personal level but I instantly made connections between her and teenagers that I know and work with. That certainly makes this a special read for me.
Solitaire was an exceptionally quick read for me, I just couldn't put it down. This was partly because of the wonderful writing style that Oseman has and partly because I was fascinated by the story and needed to know how it would unfold.
This is another fabulous book from Alice Oseman and if you haven't read her books yet I really urge you to. My full review of Solitaire will be up in the new year or you can check it out on Goodreads now.

 A Book from your TBR
This Winter
by Alice Oseman
★ ★ ★ ★ ★
This was such a lovely addition to the Solitaire world. I loved the characters in the original novel but this really made me adore Charlie. One of my favourite things from Solitaire was the relationship between Tori and Charlie so I was pleased that this relationship seemed to be the focus of this short story. Another very touching story from Alice Oseman.

 A Novella
I loved the books I read this week, so once again, a HUGE thank you to Rachel for hosting #SundayYAthon and all of the other fabulous particpants.
Every Sunday evening at 6pm (UK time) Rachel hosts the #SundayYA Twitter chat – please feel free to join. I've learnt so much from participating in these chats but most importantly I've made some really good friends in the bookish community.
---
I hope you all had a lovely Christmas and I wish you all a very happy New Year!
---
Feel free to follow me on Twitter, Instagram, Bloglovin' or Goodreads. Comments are always warmly welcome.