Thanks to the lovely Sam who hosts this meme at Taking On A World of Words. This is a weekly meme where I answer the three W's of reading: What are you currently reading? What have you just finished reading? What will you read next?
It's been a WHILE since I did one of these and I've decided that I will post one fortnightly this year in order to keep the posts a bit more fresh with a different selection of books. I'll still comment weekly though!
What are you currently reading?

I was lucky enough to get an advanced copy of The One Memory of Flora Banks by Emily Barr. This title is due for release on January 12th 2017. I'm enjoying it so far but I'm a little wary of how this is going to end up. Check out the blurb on Goodreads!
What did you recently finish reading?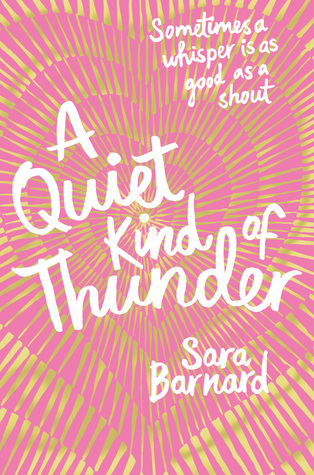 My first book of 2017 was A Quiet Kind of Thunder by Sara Barnard. Again, I was super lucky to have an early copy of this and it has automatically secured a place on my favourites spot. If you like contemporary young adult then you MUST read this. I personally think that this book has so much to offer that it's an important read for everyone. I felt so passionately about it that I immediately wrote up a 1,200 word draft review! It will be up later this week. Check out the blurb on Goodreads!
What do you think you'll read next?
I have a couple of choices depending on when Wing Jones arrives as I definitely want to read that as soon as possible! It's released tomorrow so I'm hoping my pre-ordered copy will arrive then or I will be super sad! If not, then I think it will be time to get on with Three Dark Crowns by Kendare Blake. I've had two copies of this book for such a long time and I really just need to bite the bullet and open it!
      What have you been reading this week?
Do you have any thoughts on the books I've mentioned? 
---
Follow me on Twitter, Instagram, Bloglovin' or Goodreads. Comments are always warmly welcome.