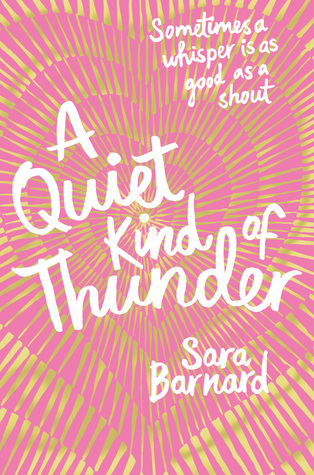 A Quiet Kind of Thunder

Author: Sara Barnard
Genre: Young Adult, Contemporary
Publication Date: January 12th 2017
Format: eARC (320 pages)
---
Synopsis:
Steffi doesn't talk, but she has so much to say.
Rhys can't hear, but he can listen.
Their love isn't a lightning strike, it's the rumbling roll of thunder.
Steffi has been a selective mute for most of her life – she's been silent for so long that she feels completely invisible. But Rhys, the new boy at school, sees her. He's deaf, and her knowledge of basic sign language means that she's assigned to look after him. To Rhys, it doesn't matter that Steffi doesn't talk, and as they find ways to communicate, Steffi finds that she does have a voice, and that she's falling in love with the one person who makes her feel brave enough to use it.
From the bestselling author of Beautiful Broken Things comes a love story about the times when a whisper is as good as a shout.
---
My Rating: ★★★★★
Reading this book can only be compared to being trapped in a joyous, wonderful, beautiful whirlpool of raw emotion. From the very beginning I was drawn to Steffi and her world and I was in it right up until the very end. I read this book in two sittings and was quite happily lost in this extremely important and very relevant story. Sara Barnard has truly succeeded here to create a special, warm yet incredibly honest story of relationships, friendships, anxiety and teenage life.
A Quiet Kind of Thunder is the story of Steffi. Steffi isn't like all the other kids at school: she is a selective mute who also suffers with extreme anxiety. Steffi struggles to communicate but even she can't explain why. That is until she is introduced to Rhys, the new deaf boy at school. Thrown into Rhys' world, Steffi learns to embrace her difficulties and open herself up to a whole world of possibility, hope and love.
I have to start by pointing out that I was a little anxious after reading the first few pages and even treated myself to a little eye roll when I assumed this would be the classic YA trope of 'teenage girl meets boy who will cure her of all her woes'. I now have to apologise for allowing this thought to enter my head because I am delighted to say that I could not have been more wrong. This book is not about Rhys fixing Steffi, or Steffi fixing Rhys, it is much more than that.
'I don't want a boy to be the reason I get better, what would that say about me if it is?'
There is so much growth in this book and so much to learn from it that I genuinely got to the last page and felt completely enlightened. I feel like I went on a real journey with these characters and I can't help but confess that I loved every single second of it. I laughed, I held my breath, I ached, I rolled me eyes, I smirked: I felt like a teenager again. That's how wonderfully Sara Barnard captures these characters and their world, thoughts, experiences and emotions.
This book was a very quick read with the additions of IMs, text messages, lists and even some BSL to learn along the way. I loved these little touches to the chapters as they truly reminded me that this is a story about teenagers.
There is such honesty to this book that at times I openly cringed and then found myself thinking 'So what? We've all put our foot in it at some point'. A prime example from the book is when Steffi and Rhys are talking about a song and Steffi sends Rhys the link – he's deaf. This book is scattered with the light-hearted impulsivity of teenagers, those small acts in life that we don't think about that can impact on those around us. Some of those actions in this book, like the one above, are merely cast aside by the affected characters. Others are not and that is where we delve into the true complexity of the characters and story.
The characters in this story are all fantastic. Steffi is incredibly relatable, despite not being a selective mute or a teenager, I found so many ways in which my present and former self could relate with her. She goes on such an inspiring and sweet journey in this story but all of it seems so real. She is not cured by the end because that wouldn't be realistic. She has, however, learned to embrace herself, her condition and her anxiety. As she learns to love others, she learns to love herself and, being both a human and a high school teacher, I cannot emphasise enough how important this message is to the world.
Our other two characters who I consider to play a key role in this story are Rhys and Tem. Rhys is a sweet, caring and wonderful person. I say that knowing full well that it implies he is perfect, but he isn't. He has his flaws and those are explored in this book. In fact, I loved that Sara Barnard took the time to explore how the use of BSL can cause users to hold back some of what they really want to say, which in Rhys' situation in the book causes him to be frustrated and to experience some anger issues, almost destructing relationships he has built.
Tem is the fierce best friend of Steffi. I absolutely adored Tem right from the very beginning. She is the daughter of a refugee and her and Steffi have been best friends since they were toddlers. Tem is fiercely protective of Steffi and their friendship reminded me so much of mine and my best friend's relationship. Those all consuming friendships that we sometimes take for granted but know will always be there to save us. Barnard cleverly tackles the very teenage issue of friend vs boyfriend by having Steffi have to come to terms with some poor decisions she makes and for me that was the most painful part of this book. Tem also happens to be a POC and there is an example of racism in the book which is included sensitively but also to reflect the extent to which Steffi's SM affects her life.
Relationships. Relationships. Relationships. I loved them. There were SO many fabulous examples of positive relationships in this book but they were all so different. I've already touched upon the wonderful relationships between Steffi, Tem and Rhys, but I cannot write a review of this book without talking about the relationship between Steffi and her parents. Steffi primarily lives with her father and step-mother, living with her mother and step-father during school holidays. Steffi's relationship with her father was so incredibly supportive and loving that it really filled me with emotion. I understood immediately why she would want to spend the majority of her time living with him. Steffi's mum has a different type of relationship with her. She is fiercely over-protective of Steffi, which as a teenager, Steffi obviously sees as being unfair. I loved how these relationships developed right at the end of the book.
Something that really resonated strongly with me throughout this book was the descriptions of anxiety. Steffi constantly battles with her anxiety and I loved how openly Barnard explored this. It was so relatable and I think that anyone who suffers with anxiety, regardless of the extent, will completely and utterly empathise with Steffi. Whether this was specific mention of her anxiety, the back and forth of positives vs negatives, the panic attacks, this book really shows how life consuming anxiety can be and I am glad that this book carries such a positive message about anxiety: it is difficult, sometimes impossible, but it is and will be okay.
'It becomes something physical that clutches at my insides and squeezes out the air and the blood.'
This is truly a coming of age story that will be guaranteed to touch people of all generations. There is something for everyone to learn from reading this book. We all remember what it was like to be a teenager, but most importantly, to all those quiet ones out there, know that the world is listening to you and know that it's okay to be you.
A really huge thank you to Netgalley, Pan MacMillan and Sara Barnard for my copy in exchange for an honest review. 
---
Follow me on Twitter, Instagram, Bloglovin' or Goodreads. Comments are always warmly welcome.