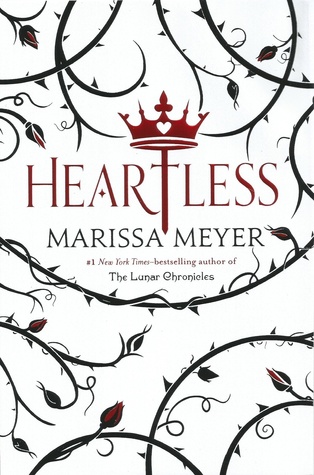 Heartless

Author: Marissa Meyer
Genre: Fantasy, Young Adult
Originally Published: November 8th 2016
Format: Hard Cover (453 pages)
---
Synopsis: Catherine may be one of the most desired girls in Wonderland and a favorite of the unmarried King, but her interests lie elsewhere. A talented baker, she wants to open a shop and create delectable pastries. But for her mother, such a goal is unthinkable for a woman who could be a queen.
At a royal ball where Cath is expected to receive the King's marriage proposal, she meets handsome and mysterious Jest. For the first time, she feels the pull of true attraction. At the risk of offending the King and infuriating her parents, she and Jest enter into a secret courtship.
Cath is determined to choose her own destiny. But in a land thriving with magic, madness, and monsters, fate has other plans.

---
My Rating: ★★★★
The first thing I have to say is that it took me a while to really get into this. I am a huge fan of The Lunar Chronicles and dived into this thinking it would be a fantastic retelling of the famous Alice in Wonderland. At first I was disappointed to find that it wasn't what I expected at all. Heartless is not a retelling (I think I just convinced myself it would be), at least not in the way that TLC were. Heartless is the side of the story we never really saw: the childhood of the Red Queen.
I'm a big Alice in Wonderland fan and I've always loved the Red Queen and how she is portrayed. I think she is a fantastic villain and once I got used to the book, I was fascinated to see Meyer's take on Cath's childhood and how she ended up becoming the Red Queen.
The instalove did put me off a little but this really is a wonderful story with plenty to keep you busy. There are endless description of food, especially desserts, so you may want to have a snack with you whilst you read this.
The plot was slow at times, towards the beginning I really didn't know where this was going, but it did pick up a lot towards the end of the book. I particularly liked the descriptions of the Three Sisters and Cath, Jest and Hatta's journey to reach Chess. My favourite scene from the whole book has the be the chapter about Hatta's tea party where we are reunited with some old friends such as Hatta, Haigha (Hare) and the little dormouse.
The characters were well built. I really liked Cath as a character and the way in which she started out as such a loving, caring person and seeing her journey to becoming the Red Queen. She went through some serious character building throughout this book which I enjoyed.
Memorable Quotes
"It is a dangerous thing to unbelieve something only because it frightens you."
"Sometimes your heart is the only thing worth listening to."
"When pleased, I beat like a drum. When sad, I break like glass. Once stolen, I can never be taken back. What am I?"
"But hoping," he said, "is how the impossible can be possible after all."
Final Thoughts
All in all I thought this was a really interesting read and I wasn't disappointed. Great characters, a charming story and an original idea. Another great book for fans of retellings.
Have you read Heartless? What is your favourite retelling?
---
---
Follow me on Twitter, Instagram, Bloglovin' or Goodreads. Comments are always warmly welcome.