Hi everyone! I hope you've all had a great week. Mine has certainly been a very busy week which has meant a little less time for reading. There are still updates to be given though, do not fret!
---
I recently finished reading 1984 by George Orwell and will have a review up later this week. My next book and current read is Rebel of the Sands by Alwyn Hamilton. I've had my copy of this since it was released in 2016 and I've shockingly never gotten around to reading it. However, I am seeing Alwyn at a panel next weekend so I definitely want to have this read before then! Hard Choices by Hillary Clinton is my current audio book. I've been listening to it for a while but at a whopping 26 hours long it is certainly taking a while. I'm hoping to get it finished this month, it's certainly very interesting!
This week on Netgalley I was approved for copies of Our Own Private Universeby Robin Talley, The Breakdown by B. A. Paris, Seven Days of You by Cecelia Vinesse and (very excitingly and appropriately) Nast Women which is being published by 404 Ink. I'm looking forward to reading all of these!
I bought a couple of books this weekend, mainly ebooks as they were so cheap! My ebook purchases were: Girl Hearts Girl by Lucy Sutcliffe, Trouble by Non Pratt, Scarred by Joanne Macgregor and It's Not Me, It's You by Stephane Kate Strohm.  I also made some preorders but I'll post about those when they arrive or this post could get LONG(er).
You may have seen my post yesterday about the 2017 challenges I am taking part in, but if you missed it you can check out all of my challenges here. I take part in lots of mini challenges on Goodreads so I will just be posting updates to my main challenges here. Click the links to visit individual challenge pages.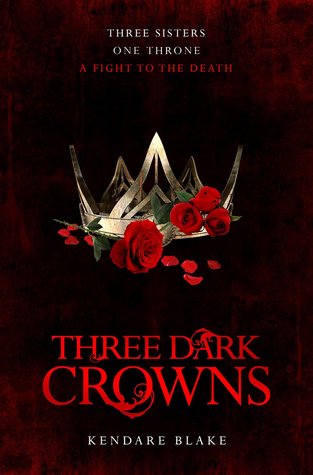 I finished this book not long after posting my Sunday Summary last week and I've only read 1984 since then so Three Dark Crowns is the winner of book of the week! I actually really enjoyed reading this book, despite it not being quite true of its blurb (in my opinion). Great plot and a huge array of characters. Check out my review here.
Today sees the start of the #Diverseathon which you can find more information about by checking the #DiverseAThon on Twitter. The readathon is running from today (22) until 29th January and the aim is to read as many diverse books as you can. I'm aiming for three and you can check out my TBR here!
I cannot write this post without acknowledging the incredible overwhelming love I felt yesterday when seeing all of the scenes from Women's Marches all over the world. There were several in the UK and I was so happy to see the thousands that turned out in support. Seeing people coming together as one was truly incredible and has certainly created some powerful images. I only hope that we will all continue to follow our hearts on this one, it cannot be a one day thing if it is going to make a difference. I am so proud of everyone who marched yesterday and all of those who were unable to (for many reasons) but were marching with their hearts. Let's continue to be nasty women!
---
What have you been reading this week?
What blog posts have you written this week? Share your links in the comments! 
---
---
Follow me on Twitter, Instagram, Bloglovin' or Goodreads. Comments are always warmly welcome.