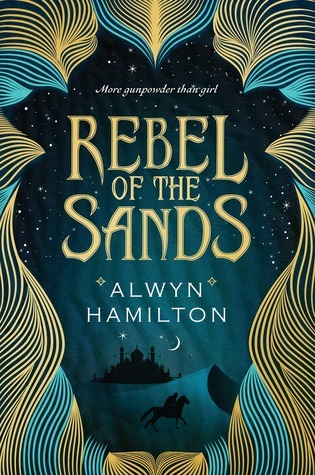 Rebel of the Sands (Rebel of the Sands #1)

Author: Alwyn Hamilton
Genre: Young Adult, Fantasy
Publication Date: February 4th 2016
Format: Paperback (358 pages)
---
Synopsis:
Dustwalk is an unforgiving, dead-end town. It's not the place to be poor or orphaned or female. And yet Amani Al'Hiza must call it 'home'.
Amani wants to escape and see the world she's heard about in campfire stories.
Then a foreigner with no name turns up, and with him she has the chance to run.
But the desert plains are full of dangerous magic. The Sultan's army is on the rise and Amani is soon caught at the heart of a fearless rebellion…
An epic story of swirling desert sands, love, magic and revolution.
---
My Rating: ★★★★★
"A new dawn, a new desert"
Rebel of the Sands was sat patiently waiting for me on my shelf for almost a year before I finally picked it up, but I'm so glad I did. I thoroughly enjoyed this story and the characters that Alwyn Hamilton has created. It's fast-paced and there are plenty of twists and turns on the way.
Rebel of the Sands tells the story of Amani, a teenage girl who lives in the desert. A girl who is desperate to break away and seek out the life she wants for herself. As Amani tries to escape from ending up being married off, she meets Jin and a whole new world of adventure opens up before her eyes. With plenty of action along the way, Amani starts to discover her true identity and the role she can play in the rebellion.
I really loved reading a book in such a different setting. This was the first book I have read that is set in the desert and I really loved the imagery that was created. I was easily able to imagine the stretching sands, the blazing sun in the sky and this is due to some seriously wonderful writing from Alwyn Hamilton. I was curious to learn about the traditions and folk stories of the desert and got swept up in the magical elements too. The plot of this story was really strong and a lot happens to get us to the end point ready for book number two. For me, this was great and did not take away from the characters at all.
Amani has easily become one of my favourite fictional characters. I love that in a society where women are of a much lower status than men, she is constantly breaking through the stereotypes against her gender. She is witty, brave and has more sass than all the other characters put together. I also loved that Amani is such a flawed character, she is by no means perfect but this made her feel all the more real. She steals the title for best character development! I also really like Jin, I thought he was a good balance to Amani. In my review notes, I wrote the following: "Jin = YES PLEASE". I think that probably says it all.
The world-building was well written, the plot was strong and I truly cared for the characters. Everything I want in a book. I'm so glad I read this just before the release of Traitor to the Throne because I cannot wait to read it!
---
Have you read Rebel of the Sands? What did you think?
Who was your favourite character?
---
---
Follow me on Twitter, Instagram, Bloglovin' or Goodreads. Comments are always warmly welcome.