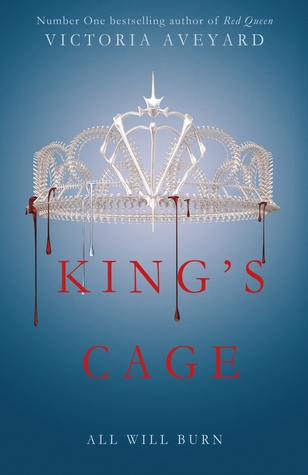 King's Cage (Red Queen #3)

Author: Victoria Aveyard
Genre: Young Adult, Fantasy
Publication Date: February 9th 2017
Format: Paperback (507 pages)
---
Synopsis:
In this breathless third installment to Victoria Aveyard's bestselling Red Queen series, allegiances are tested on every side. And when the Lightning Girl's spark is gone, who will light the way for the rebellion?
Mare Barrow is a prisoner, powerless without her lightning, tormented by her lethal mistakes. She lives at the mercy of a boy she once loved, a boy made of lies and betrayal. Now a king, Maven Calore continues weaving his dead mother's web in an attempt to maintain control over his country—and his prisoner.
As Mare bears the weight of Silent Stone in the palace, her once-ragtag band of newbloods and Reds continue organizing, training, and expanding. They prepare for war, no longer able to linger in the shadows. And Cal, the exiled prince with his own claim on Mare's heart, will stop at nothing to bring her back.
When blood turns on blood, and ability on ability, there may be no one left to put out the fire—leaving Norta as Mare knows it to burn all the way down.
---
My Rating: ★★★★
I tentatively pre-ordered this book a while ago and once it arrived I decided to jump straight in and read it. I say tentatively because if I'm being real, I didn't exactly love Glass Sword. It was okay but it certainly didn't reach my expectations. So understandably I had pretty low expectations for King's Cage, but my hope was still there. I'm really glad that I continued with this series because I enjoyed King's Cage way more than Glass Sword.
King's Cage picks up not long after the end of Glass Sword. Mare is being held captive by Maven and hidden away with the restraint of silent stone placed upon her. With glances back and forth between Mare's situation and the rest of the Scarlet Guard, the main course of action for this book was whether or not they would be able to rescue Mare. Queue lots of political talk and a fair bit of action and overall this was a great read.
I thought there was a lot more point to this book. I could sense the direction of the plot and was also interested in the political elements. There were certainly some interesting twists in this book and it will be interesting to see where the fourth and final book will take us. This series is a little wordy but Aveyard has certainly built up enough by now for there to be a great conclusion to the series.
I really LOVED that the POVs were from the female characters and it was refreshing to get chapters from the POV of Cameron and Evangeline. I was pleasantly surprised by how much I liked Evangeline in her chapters too. If I had to pick something that irked me a bit though I just REALLY wanted more from Farley. She is my favourite and although she was there in the book, I just really wanted her to come more to the front.
I need to talk about Mare. I really resented her in the last book, I thought she was cold, selfish and I just could not connect with her. As her circumstances have now changed, we finally see a slightly different side to her. She is much more human and emotional and I was able to start to have some form of connection with her. I'm not sure she will ever be my number one heroine, but she certainly had a lot more integrity in this book and I much prefer the new Mare.
Overall I enjoyed this book and was surprised at how quickly I read it. There are some great characters in this series and I hope we will see more from them (aka Farley) in the final book!
---
Have you read King's Cage? What did you think?
Are you a fan of the Red Queen series?
---
---
Follow me on Twitter, Instagram, Bloglovin' or Goodreads. Comments are always warmly welcome.