Hello my lovely readers! I've taken some time out of blogging recently due to two things: work being exceptionally stressful and being in a lot of pain with my back/hip. I'm hoping to get back to it this week though and finally catch up on my outstanding reviews and get back into my routine. I missed last week's Sunday Summary as I had been on a residential trip with 30 11/12 year olds (yes, it was tiring!) so this looks back over my reading since the start of May!
---
 Last week I read When Dimple Met Rishi and I absolutely fell in love with it. Such a lovely romance and very well written characters. I felt like I learnt a lot as well as falling in love with a new couple. My current read is Flame in the Mist. I've not read much this weekend because of pain but I'm hoping to really get into this book this week.
So I've put myself on a book buying ban which isn't easy! I sneakily made some pre-orders a few months ago for lots of upcoming book and three of those arrived over the last two weeks so I'm still getting bookish post! I'm looking forward to reading all three of these books!
  My gorgeous friend Rosie sent me a super lovely package which was a lush surprise when I got back last weekend. It contained some cute goodies as well as two books from my TBR (she knows me well!). I've heard great things about Goodbye Days and I know that Small Great Things was Rosie's favourite book of 2016 so I'm bound to like it!
I recently read a few of my NetGalley titles and for some reason felt it would be okay to request some more… Woops. This will need to be my next ban!!
Progress is being made little by little! Every little counts and all that!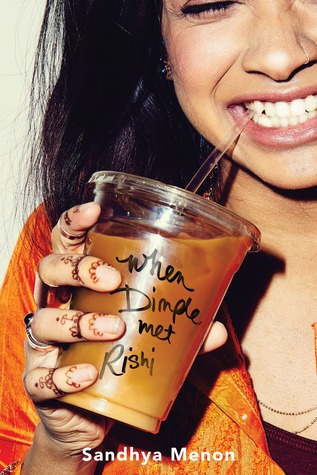 I absolutely fell in love with this book and the wonderful characters in it. I loved the relationship between Dimple and Rishi and how it wasn't perfect but it just worked. It gave me such a warm feeling. I adore Dimple Shah. She is a fantastic leading lady and I loved her passion and how fiery she was. It was also great to learn so much about the culture of these characters. I think this is a book that many people will fall in love with.
I am SO behind on reviews but here are my posts from the last two weeks!
I've felt a bit slumpy lately with regards to reading and blogging. I think the stress of work and my current pain level has meant I am just coming home and collapsing into bed. It's hard to concentrate on things when I feel like this but most of the stress in work will be gone now so I'm looking forward to getting back into blogging and reading.
Have a wonderful week!
---
What have you been reading this week?
What blog posts have you written this week? Share your links in the comments! 
---
---
Follow me on Twitter, Instagram, Bloglovin' or Goodreads. Comments are always warmly welcome.