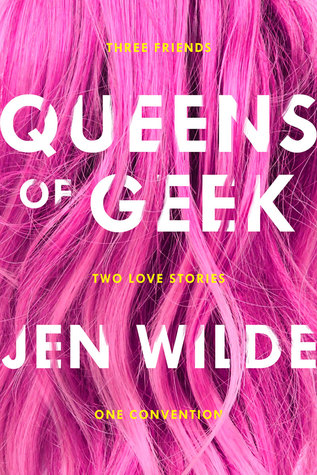 Queens of Geek

Author: Jen Wilde
Genre: YA, Contemporary
Publisher: Swoon Reads
Publication Date: March 14th 2017
Format: eARC (288 pages)
---
Synopsis:
When BFFs Charlie, Taylor and Jamie go to SupaCon, they know it's going to be a blast. What they don't expect is for it to change their lives forever.
Charlie likes to stand out. SupaCon is her chance to show fans she's over her public breakup with co-star, Reese Ryan. When Alyssa Huntington arrives as a surprise guest, it seems Charlie's long-time crush on her isn't as one-sided as she thought.
While Charlie dodges questions about her personal life, Taylor starts asking questions about her own.
Taylor likes to blend in. Her brain is wired differently, making her fear change. And there's one thing in her life she knows will never change: her friendship with Jamie—no matter how much she may secretly want it to. But when she hears about the Queen Firestone SupaFan Contest, she starts to rethink her rules on playing it safe.
---
My Rating: ★★★★★
I LOVED this book so much! It was everything I dreamt it would be and so, so much more. I loved that this was set in a convention and just how much all of the characters were fangirling over their favourite authors and YouTubers. It just felt so real and I'm sure thousands of people will easily relate to this story.
I have fallen head of heels in love with the characters in this book. I liked that it was told from two different POVs: Tay suffers with anxiety and ASD and Charlie is a famous YouTuber who is also bisexual. I loved both of these girls and how their mental health and sexuality was not what this book was about but that it was just a part of their being. I loved the dynamic of the friendship between Charlie, Tay and Jamie and I was pleased with where it ended up. Although there was a tinge of instalove I did think it was sweet and found myself rooting for a particular couple quite early on. (No spoilers!!)
The writing is absolutely delightful and I probably could have filled a notebook with the quotes that made me laugh out loud. I loved how contemporary this book was too, filled with references to social media platforms, which makes this book so easy to relate to. This book deals with so much that I did wonder if it was a bit too much for a second, but that second quickly passed and I realised that I just love this book. Body shaming, sexuality, sexual experience, mental health, friendship, romance and so much more is relevant in this book and dealt with in a way that is relatable and accessible.
I loved how diverse this book was but also how Tay's anxiety and ASD and Charlie's sexuality didn't define them or their story. Sure, this added to who they are but this story was not about Tay and her anxiety or Charlie and her sexuality. It was about Tay following her dreams of meeting her favourite author and Charlie falling in love. That being said we got an honest insight into how anxiety affects certain situations. I thought some of the scenes where Tay is overwhelmed by her anxiety were really powerful and there was something so raw about them that can only be found in an #OwnVoices book.
Overall I just loved this book and thought it was super sweet and fluffy. It was just what I needed at the time. Filled with fangirling, wonderful characters and lovely writing, I'm sure this will be a lovable read for many of you!
A big thank you to Netgalley, Swoon Reads and Jen Wilde for my advance copy in exchange for a fair and honest review.
---
Have you read Queens of Geek? What did you think?
Have you been to any conventions? What is your favourite memory?
---
---
Follow me on Twitter, Instagram, Bloglovin' or Goodreads. Comments are always warmly welcome.