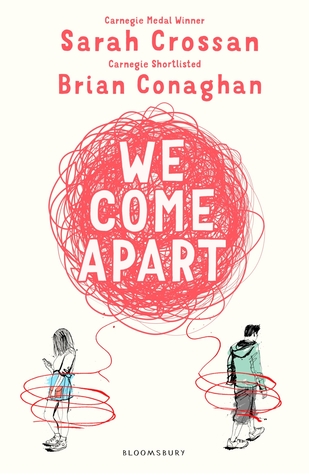 We Come Apart

Author: Sarah Crossan & Brian Conaghan
Genre: YA, Contemporary
Publisher: Bloomsbury Childrens
Publication Date: February 9th 2017
Format: eARC (320 pages)
Goodreads:     Book
---
Synopsis:
Authors Brian Conaghan and Sarah Crossan have joined forces to tell the story of Nicu and Jess, two troubled teens whose paths cross in the unlikeliest of places.
Nicu has emigrated from Romania and is struggling to find his place in his new home. Meanwhile, Jess's home life is overshadowed by violence. When Nicu and Jess meet, what starts out as friendship grows into romance as the two bond over their painful pasts and hopeful futures. But will they be able to save each other, let alone themselves?
For fans of Una LaMarche's Like No Other, this illuminating story told in dual points of view through vibrant verse will stay with readers long after they've turned the last page.
---
My Rating: ★★★★
This was the first time that I have ever read a book written in verse and I surprised myself by really enjoying it. I thought it added a dimension to the book that would have been completely lost had this been told as a normal novel.
Contrasting the lives of Jess and Nicu, We Come Apart shows just what can happen when two people from two very different worlds come together. The story is told in alternating 'chapters' from each of their voices. Initially this can be a little confusing as it doesn't explicitly tell you who is speaking but once you learn their voices it is easy to tell.
I loved reading Nicu's chapters in broken English and how his vocabulary developed along the way. It was a very clever way of showing the complexity of the English language too and some of what Nicu said did make me giggle a little. I thought Nicu's character was absolutely adorable. Whilst I was initially a little less positive towards Jess, it soon became clear that there was much more going on with her than first meets the eye and there were many moments during her parts where I was holding my breath for her.
Overall I thought this was a quick and interesting read although I was hoping for a bit more from the ending. The character development was excellent and I enjoyed reading a story in a less traditional format.
A big thank you to Netgalley and Bloomsbury Childrens for my advance copy in exchange for a fair and honest review.
---
Have you read We Come Apart? What did you think?
Have you read any other books written in verse?
---
---
Follow me on Twitter, Instagram, Bloglovin' or Goodreads. Comments are always warmly welcome.