Hello lovely people! Can you quite believe it is almost the end of May already? 2017 is flying back! This week has been much more back to normal on the blogging front, my hip/leg pain has also reduced massively and to put the cherry on top I have 9 days off for half term which means lots of reading and 'me' time!
 Over the last week I've read a couple of YA books. I thoroughly enjoyed reading If I Was Your Girl by Meredith Russo but unfortunately Who Runs the World? by Virginia Bergin didn't reach my expectations. My current read is Am I Normal Yet? by Holly Bourne. Everyone in the UKYA community raves about this series and I've finally picked up the first book from my shelf to dive in. I'm enjoying it so far!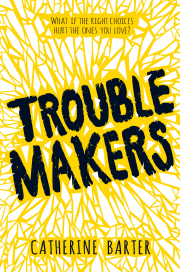 This last week has been another great week for my book buying ban! I'm still going strong (for now, this week off could be the problem!!). I already had an eARC of Troublemakers by Catherine Barter which is due for release on June 1st but I was lucky enough to receive an early finished copy after winning a giveaway hosted during last week's #SundayYA chat. (6pm every Sunday – join us on Twitter!)
Progress is being made little by little! Every little counts and all that!
This book had been sat patiently on my Kindle for SO long, possibly nearing on a year but I've finally read it and I thoroughly enjoyed it. I thought it was a wonderfully honest take on life as a transgender person and definitely had that rawness that only an #OwnVoices book can provide. I thought the characterization was superb and flew through this!
I'm slowly catching up on reviews and my blog was definitely more active this week!
After finished off a couple of audio books last weekend and then reading some great YA this week I think I've pulled myself out of my slumpish behaviour. I'm taking part in the Series Crackdown readathon throughout this week in an effort to get through some series that have been on my shelves a while. There are sprints every evening at 7pm which is a nice way to chat with others too. I'm enjoying it so far and hoping to get through six books this week!
Have a wonderful week!
---
What have you been reading this week?
What blog posts have you written this week? Share your links in the comments! 
---
---
Follow me on Twitter, Instagram, Bloglovin' or Goodreads. Comments are always warmly welcome.