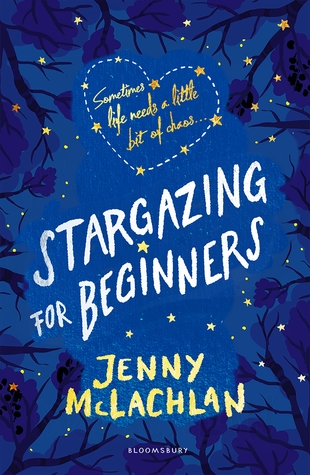 Stargazing for Beginners

Author: Jenny McLachlan
Genre: YA, Contemporary
Publisher: Bloomsbury
Publication Date: April 6th 2017
Format: Paperback (256 pages)
---
Synopsis:
Science geek Meg is left to look after her little sister for ten days after her free-spirited mum leaves suddenly to follow up yet another of her Big Important Causes. But while Meg may understand how the universe was formed, baby Elsa is a complete mystery to her.
And Mum's disappearance has come at the worst time: Meg is desperate to win a competition to get the chance to visit NASA headquarters, but to do this she has to beat close rival Ed. Can Meg pull off this double life of caring for Elsa and following her own dreams? She'll need a miracle of cosmic proportions …
Fans fell in love with the warmth, wit, romance and fierce friendships in Flirty Dancing, Love Bomb, Sunkissed and Star Struck, and Stargazing for Beginners has all that and galaxies more. This is the best kind of real-life fiction – with big themes and irresistible characters, it goes straight to your heart.
---
My Rating: ★★★★
A book about an intelligent young girl who absolutely loves space and dreams of being an astronaut… That's a big YES from me!
I thoroughly enjoyed this book and really loved Meg. I thought she was a wonderful character and a great example to young people of how loving Science is not a bad thing. I did have a rather significant issue with her mother though. Meg's mum is beyond irresponsible and it really bothered me but it also gave us the chance to see Meg bonding with her baby sister and if there's something I am a huge sucker for it is sibling relationships. Meg's friendships were wonderfully written and I thought that the romance was well done too.
This book also showed the effects of Meg's anxiety without the book becoming about her anxiety, which I loved. Meg didn't fit easily into her new lifestyle, she didn't breeze into a relationship, she didn't become a super popular person and just win her way to the top. She worked hard, she overcame her fears, she felt so real and I think Meg will resonate with many teenage readers.
---
Have you read Stargazing for Beginners? What did you think?
---
---
Follow me on Twitter, Instagram, Bloglovin' or Goodreads. Comments are always warmly welcome.