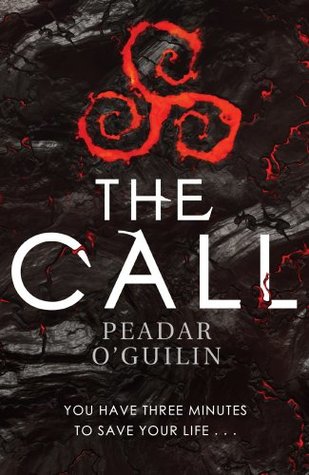 The Call (The Call #1)

Author: Peadar Ó Guilín
Genre: YA, Dystopia, Sci-Fi
Publisher: David Fickling Books
Publication Date: August 30th 2016
Format: Paperback (336 pages)
---
Synopsis:
You have three minutes to save your life.
Nessa and her friends attend Boyle College to train for the most dangerous time of their lives – THE CALL.
Without warning, each one of them will wake in a terrifying land, alone and hunted, with a one-in-ten chance of returning alive.
No one believes Nessa can make it, but she's determined to prove them all wrong. And she will need every ounce of spirit and courage in order to survive . . .
---
My Rating: ★★★★★
The Call is a book that had been on my radar for a while and some of my most trusted bookish friends were urging me to read it so I finally took the plunge and bought a copy. I went in with very little idea of what the book was about or what it would be like, I just knew that it is very highly rated and well loved among the YA community.
The Call is terrifying. It is gruesome. It is so dark and twisted that it is nothing but glorious. Knowing so little about it before going in meant that I was not at all prepared for the grotesque descriptions of mutilated humans or the bloody concept of the Sídhe (who creeped me out very much!).
I thought the concept of this book was so unique and it certainly captured my curiosity straight away. The idea that at some point during your teen years you will disappear from reality for 3 minutes and 4 seconds, appearing naked in a grey landscape where you know you have to fight for your life. The Call. TERRIFYING.
Even more frightening to me was the fact that children were sent to preparatory colleges to train in preparation for their Call. Nessa and her friends attend Boyle College for their training and let me tell you now that the training itself is brutal, let alone the actual Call. From learning theory to taking part in actual hunts, it was clear how much thought had gone into the concept of this story. Set in a dystopian Ireland I loved the references to Irish folklore/mythology and the Sídhe certainly terrified me!
It pained me to see how little faith the teachers and other students had in Nessa due to her Polio damaged legs. I thought that Nessa was a complete badass and I was rooting for her right from the beginning. I didn't make as much of a connection with the other characters but I'm glad because every now and then in this book we as readers are transported to see the Calling of one of Nessa's classmates. Had I been emotionally connected to too many of the characters this book would have destroyed me with all the bloody, gruesome deaths is serves up.
Exhilarating and exciting are two words that go hand in hand with The Call. It's one of the fastest-paced books I've read in a long time and as terrifying as it was I just couldn't bear to put it down. I even dreamt of my own Calling, or maybe it was a nightmare, who knows? All I do know is that this book is incredible and if you are not too squeamish and love dystopian books then you MUST pick this up immediately!
---
Have you read The Call? What did you think?
What are your favourite YA dystopian novels?
---
---
Follow me on Twitter, Instagram, Bloglovin' or Goodreads. Comments are always warmly welcome.