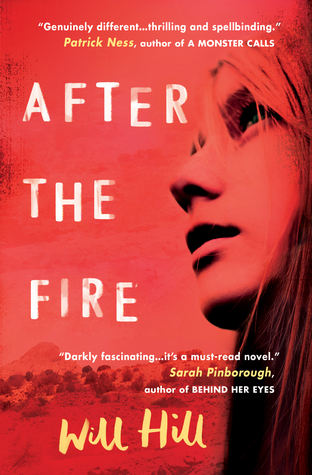 After the Fire

Author: Will Hill
Genre: YA, Contemporary
Publisher: Usborne
Publication Date: June 1st 2017
Format: Paperback (496 pages)
---
Synopsis:
The things I've seen are burned into me, like scars that refuse to fade.
Father John controls everything inside The Fence. And Father John likes rules. Especially about never talking to Outsiders. Because Father John knows the truth. He knows what is right, and what is wrong. He knows what is coming.
Moonbeam is starting to doubt, though. She's starting to see the lies behind Father John's words. She wants him to be found out.
What if the only way out of the darkness is to light a fire?
---
My Rating: ★★★★★
I was immediately sold on reading this book the second I found out that it was about a cult. There is something so mysterious about a cult that really draws me in. A fascination to discover how people live in them and what it is that draws their faith. I had heard brilliant things about After the Fire and so I dived straight in after receiving the book as a birthday gift.
Will Hill certainly does not mess around with his writing and this is such a well crafted story of faith and the way in which our faith can sometimes waiver. Father John is an awful person and I felt nothing but pure hatred towards him. Something I think that Will Hill did incredibly well was to allow us as readers to see both sides of the story. As easily as I could hate Father John, I could also easily understand and see how many of the people in the cult believed him and had faith in him. This was something that really interested me as it isn't something I had really considered before reading this book. Why is it that people put so much faith in such obviously abusive leaders?
The structure of this book was another thing that I really quite liked. Flicking back and forth between 'Before' and 'After' really helped to build the intrigue and mystery around Moonbeam's secret. What exactly had happened in the compound? How did Moonbeam end up in the 'After'? It was a really great way to explore Moonbeam's character and get to know her through a series of events she had been through in her earlier life. I think it's definitely one of the reasons I felt such a strong pull towards Moonbeam as a character. I really felt like I was living through each conversation with her and there was plenty in there to shock and enrage me.
I loved reading Moonbeam as a main character and had such huge sympathy towards her. It was clear from the beginning that there was more to Moonbeam's story than first meets the eye and the intrigue intensifies as the story moves on and we see Moonbeam coming to terms with her life inside the cult and learn to trust those who have rescued her. With that trust comes a series of revelations from her life within the compound. Without a doubt Moonbeam has been through a traumatic experience but her ability to trust her own instincts and be able to question everything she thought she trusted is such a huge value in her character.
Two other characters whom I unexpectedly really enjoyed reading where Dr Hernandez and Agent Carlyle. There was something about their dynamic that just really caught me and I loved the idea of caring, cautious Dr Hernandez and fiery, enraged Agent Carlyle having some seriously heated conversations out of Moonbeam's earshot. Dr Hernandez having dealt with numerous cases like Moonbeam's before is much more able to cope with Moonbeam's situation but we see Agent Carlyle have a really tough time with it, especially being father to a daughter of his own. His anger and distress was really relatable and I thought it was that added dimension that made this book feel so real. I loved their dynamic and especially the journey we see Agent Carlyle in particular go on by the end of the book.
After the Fire is a harrowing but real look at the effects of life within a cult and the after effects on those who escape. It is sure to send you on a rollercoaster of emotions from anger and sadness all the way back to hope.
---
Have you read After the Fire? What did you think?
What are your favourite books about cults?
---
---
Follow me on Twitter, Instagram, Bloglovin' or Goodreads. Comments are always warmly welcome.