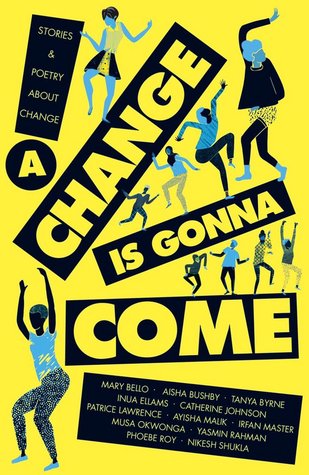 A Change Is Gonna Come

Author: Mary Bello, Aisha Bushby, Tanya Byrne, Inua Ellams, Catherine Johnson, Patrice Lawrence, Ayisha Malik, Irfan Master , Musa Okwonga, Yasmin Rahman, Phoebe Roy, Nikesh Shukla
Genre: YA, Anthology
Publisher: Stripes Books
Publication Date: August 10th 2017
Format: eARC (384 pages)
Goodreads:       Book
---
Synopsis:
Featuring top Young Adult authors alongside a host of exciting new talent, this anthology of stories and poetry from BAME writers on the theme of change is a long-overdue addition to the YA scene. Contributors include Tanya Byrne, Inua Ellams, Catherine Johnson, Patrice Lawrence, Ayisha Malik, Irfan Master, Musa Okwonga and Nikesh Shukla.
Plus introducing four fresh new voices in YA fiction: Mary Bello, Aisha Bushby, Yasmin Rahman and Phoebe Roy.
---
My Rating: ★★★★★
Very highly anticipated within the UKYA community, I was delighted when I was accepted for an early copy of this on NetGalley. A Change is Gonna Come is every bit as wonderful as I expected and so, so much more.
This anthology holds such a diverse collection of stories from a wonderful host of BAME writers, some already well known authors and some fantastic debuts. Covering topics such as bereavement, mental health, racism and sexuality there is so much to be garnered from reading this anthology. There really is something in here for everyone. Whether you are able to relate to one of the many brilliant characters and stories on a personal level or whether you learn something from reading this anthology, this is a book that should be read by people of all ages and backgrounds.
As is the case with any anthology I read, there were some pieces that I didn't connect with as well as others but every piece in here is unique and I think everyone who reads it will find certain pieces that they connect with on a more deep, personal level. My favourites were Marionette Girl by Aisha Bushy and Hackey Moon by Tanya Byrne. Both of these stories were so delicately written and had me in tears by the end – they really are stand out pieces of fiction. I absolutely have to give a shout out to the following stories too which I thought were exceptionally powerful in their subject matter and their voice: We Who? by Nikesh Shukla, Dear Asha by Mary Bello, A Refuge by Aiysha Malik and Fortune Favours the Bold by Yasmin Rahman.
I certainly feel that this anthology gave me a lot to think about and consider and I am really excited to see what comes from this in the publishing world. I will certainly be keeping an eye out for future works from the authors involved.
This collection of stories is sure to provide many teenage readers with their first experience of seeing themselves represented in published fiction and that is very, very special.
Huge thank you to NetGalley, Stripes Books and all of the contributing authors for my advanced copy in exchange for a fair and honest review.
---
Have you read A Change Is Gonna Come? What was your favourite story?
Can you recommend any other YA anthologies you have enjoyed?
---
---
Follow me on Twitter, Instagram, Bloglovin' or Goodreads. Comments are always warmly welcome.