Today I'm back with a Hocus Pocus themed tag that I saw over on Lilly's blog. I love this movie and always rewatch it around Halloween so this seemed like the perfect tag to take part in this week.
THE RULES
There are no rules. It's YOUR blog. But it would be nice if you linked back to Never Not Reading (tag creator), and maybe the person who tagged you too. Share the love folks.
Feel free to use the GIFs used by Never Not Reading, the graphics made by Flavia the Bibliophile if you would like, both, or make and use your own visuals!
The first trilogy that popped into mind for this one is the wonderful Sin Eater's Daughter trilogy by Melinda Salisbury. I read the whole thing in 6 days earlier this year and Mel has quickly become one of my favourite authors. These books are glorious and deliciously dark. I highly recommend them if you like a fantasy read!
I absolutely cannot answer this question without the answer being Levana from The Lunar Chronicles by Marissa Meyer. From the very first book she is nothing but pure evil and even though I had a moment of feeling sorry for her during Fairest it really didn't last very long!
I think it goes without saying that the Harry Potter series will continue to attract children and adults for many, many years to come.
I listened to Bossypants on audio and it was the best decision I mae. Tina Fey narrated it herself and I lost count of how many times I was literally laughing out loud in public!
This will be an unpopular answer, I think, but I didn't really think much of We Were Liars and really don't understand the huge hype around it. I feel like it tries to be a great mystery but actually the big twist I had guessed quite early on. (This is a personal opinion!)
I made this decision very, very quickly. The Hate U Give by Angie Thomas is sure to appear on many 'Best of 2017' lists and rightly so. This book does not hold back and I love its honesty and the message that Angie Thomas puts across. A must read!
Okay, so I've never actually read these books (don't hurt me) but I hear so many uncomfortable things about them that a part of me does wish they would cease to exist!
Okay, so I am cheating here because I cannot think of an answer! I recently read Frozen Charlotte and there's a part in the book where Sophie hears a noise from downstairs in the middle of the night… and she goes downstairs in the dark to investigate?! DUMB.
So, so many choices but this one was so obvious to me! This duology was bloody incredible and if there were 50 books I'd still be reading these characters!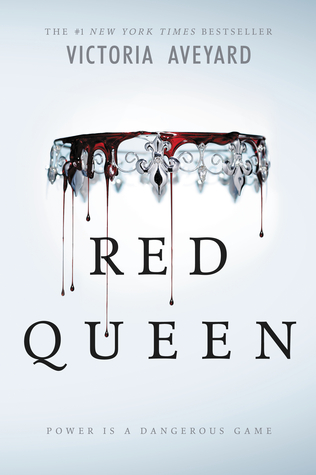 I see a lot of people say how bad Red Queen is and whilst it may not be the most original book (lots of similarities to well known dystopians) it is not badly written and I did enjoy it enough.
These books by Jay Kristoff are bloody wonderful, my friend. The way the narration is written definitely makes it feel like the book has a mind of its own. It really is very clever!
I read the brilliant Unconventional by Maggie Harcourt back in July and loved it. There is a cameo in this book by the fantastic Melinda Salisbury (see above for Mel's fab books!)
This tag was a lot of fun! If you fancy taking part then please do! I'll be tagging Steph, Rosie, Aoife, Amy and Bex but feel free to tag yourself!
---
Follow me on Twitter, Instagram, Bloglovin' or Goodreads. Comments are always warmly welcome.