Those of you who saw my TBR post back at the beginning of the month will know that I was taking part in the Halloween Readathon hosted by the lovely Lauren @ Wonderless Reviews. Well now it's the end of the month (almost!) and I'm back to let you know how the Readathon went!
My aim was to read 7 books and read 7 books was exactly what I did! Here are the books I read and a little summary of what I thought of each (there were highs and lows!) I've shared link to full reviews where I could but keep an eye out for some others coming soon!
Read A Book With A Creepy Cover – Frozen Charlotte by Alex Bell
I hate dolls. They really creep me out and this book definitely delivered on the 'chill' factor. It was really creepy and I could definitely feel those shivers running down my spine. What I didn't realise until after finishing this book is that Frozen Charlottes are an actual thing – talk about terrifying!! This book totally delivered on the creep factor and I gave it 4.5*. (Full review here)
Read a Supernatural/Paranormal Book – A Skinful of Shadows by Frances Hardinge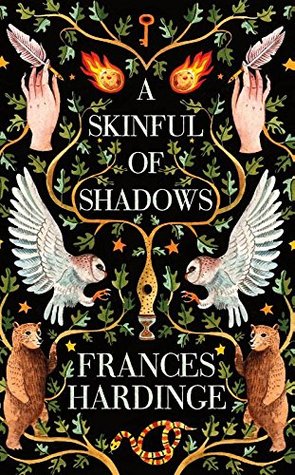 This book was gorgeous. The writing is just stunning and this is a really atmospheric novel. It was creepy in its own right but not a full horror novel. The title of this book has so much more meaning once you've read it. I adored Makepeace and her Bear. I gave this book 4*.
Read a Horror/Thriller Book – There's Someone Inside Your House by Stephanie Perkins
 
Okay so this book disappointed me a bit. It certainly wasn't the horror I had hoped for. Don't get me wrong, there is plenty of murder but the romance aspect just took over the whole novel for me. I was hoping for more scares! I gave this book 3*. (Full review here)
Read a Book after Sunset – Slasher Girls & Monster Boys (anthology)
I read this book in small chunks at nighttime for about a week or so. Unfortunately it just fell short for me on the 'scares'. There were some outstanding stories that I will not forget about very easily (shout out to In the Forest Dark and Deep by Carrie Ryan which is a really creepy Alice in Wonderland themed story) but other than about 3 stories I will forget these pretty easily. I rated the anthology 2*.
Trick: Scary Book You've Been Putting Off – Scarecrow by Danny Weston
This book was good but definitely more suited to younger readers who won't want to feel terrified but will find an isolated location and some slightly creepy parts enough. A lovely story though. I gave this book 3*. If you want to check out an extract then go here! (Full review here)
Treat: Free Choice of Any Genre – The Extinction Trials by S. M. Wilson
Ah I LOVED this book so much! It is The Hunger Games meets Jurassic Park and I loved it completely. The Trials were brutal and Piloria is the most beautiful place but filled with horrors in the form of dinosaurs. Excellent characters, fast-paced action-packed plot and plenty to keep me racing through it. I can't wait for everyone to get their hands on this in January! I gave this 5*.
Read 7 Books – Charlotte Says by Alex Bell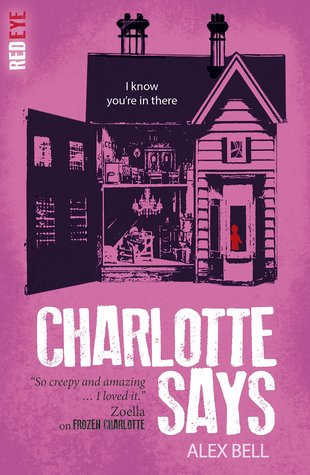 After reading Frozen Charlotte for part of this readathon, when I needed to read one more book to fulfil this challenge Charlotte Says was the obvious choice. I really enjoyed this prequel and learning more about the Frozen Charlotte dolls and the school house which is also the location for the first book. Although it wasn't as scary as Frozen Charlotte I still thoroughly enjoyed this book. I gave it 4*.
And there we have it! I managed to actually complete a readathon and stick to my original TBR – who knew it was possible?! Huge thanks to the lovely Lauren for hosting this, I really enjoyed getting stuck into some spooky books – a genre I don't usually read from!
Happy Halloween everyone!
Have you read any of these spooky YA books?
What are your favourite YA horror novels?
---
---
Follow me on Twitter, Instagram, Bloglovin' or Goodreads. Comments are always warmly welcome.