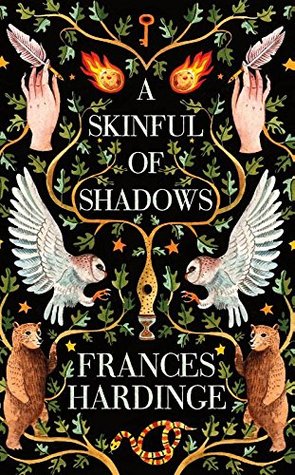 A Skinful of Shadows

Author: Frances Hardinge
Genre: YA, Fantasy, Historical Fiction
Publisher: Macmillan
Publication Date: September 21st 2017
Format: Hardcover (416 pages)
---
Synopsis:
This is the story of a bear-hearted girl . . .
Sometimes, when a person dies, their spirit goes looking for somewhere to hide. 
Some people have space within them, perfect for hiding. 
Twelve-year-old Makepeace has learned to defend herself from the ghosts which try to possess her in the night, desperate for refuge, but one day a dreadful event causes her to drop her guard. 
And now there's a spirit inside her. 
The spirit is wild, brutish and strong, and it may be her only defence when she is sent to live with her father's rich and powerful ancestors. There is talk of civil war, and they need people like her to protect their dark and terrible family secret. 
But as she plans her escape and heads out into a country torn apart by war, Makepeace must decide which is worse: possession – or death.
---
My Rating: ★★★★
The first time I read a book by Hardinge we did not get on. I just couldn't wrap my head around the writing or what was going on. With that in mind I was both excited and nervous about jumping into A Skinful of Shadows but I'm SO glad that I went ahead and did it. This book is a true wonder.
I loved everything about this book: the characters, the settings, the plot twists and turns, the darkness, the emotion, the writing. Everything felt well thought out and meaningful in a way that only a book of this calibre can.
The book is both a slow burner and fast paced at the same time and I can't quite put into words why it is that I think that. Whilst things do seem to happen fairly quickly, at the same time I feel we are given plenty of time to get to know our characters and their backgrounds too. Which is exactly what I love in a novel. Plenty happens to keep this book interesting: there are twists and turns at every corner and thrills to be found where you least expect them.
I adored the characters and Makepeace is definitely a character who will stay with me for some time. Makepeace the beautiful, brave girl with a bear in her soul who will do just about anything if it feels right. Makepeace is strong in ways that most people could only dream of and what she goes through in this book did anger me at times. I loved following her story and her strength of character was something that really struck me. She is passionate, dedicated and driven.
There are lots and lots of other characters in this book. Some of whom stay with us throughout and others who quickly appear and then make their exits. I really liked Helen and James, not forgetting the witty Dr Quick.
It would be wrong not to mention the writing in this review. I have fallen head over heels in love with the way that Hardinge writes. Every word on the page feels meaningful and her ability to leave emotions dangling at the end of sentences, pages and chapters just really captured me.
This is definitely a dark tale but one that is pierced with hope and light throughout.
Have you read A Skinful of Shadows?
What is your favourite Frances Hardinge novel?
---
---
Follow me on Twitter, Instagram, Bloglovin' or Goodreads. Comments are always warmly welcome.