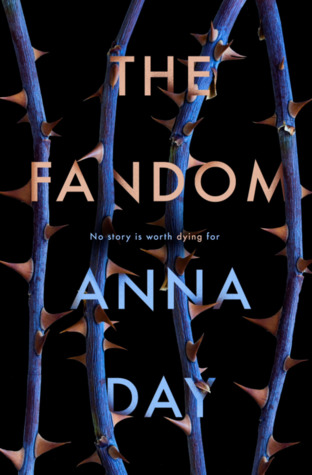 The Fandom

Author: Anna Day
Genre: YA, Fantasy, Dystopia
Publisher: Chicken House
Publication Date: January 4th 2018
Format: Paperback (402 pages)
---
Synopsis:
Cosplay ready, Violet and her friends are at Comic-Con.
They can't wait to meet the fandom of mega movie, The Gallows Dance. What they're not expecting is to be catapulted by freak accident into their favourite world – for real. Fuelled by love, guilt and fear, can the friends put the plot back on track and get out? The fate of the story is in their hands …
---
My Rating: ★★★★
The premise of this book really captured my imagination from the very moment I heard about it so I was thrilled when I received an advanced copy to read. The concept is this: Violet, her brother and two of her friends are at Comic Con when their world is literally turned upside down and inside out and they find themselves thrown right into the centre of their favourite bookish fandom, the world of The Gallows Dance. From there on it is a race against time, and the canon, to find their way out alive and figure out what has happened to them.
I enjoyed reading this book a lot and thought the concept was excellent. It was nice to read a book where the characters were so passionate about their fandom and also that the fandom in question was a bookish one! As a bookworm that was something I could automatically connect with. The general plot of the story is revealed very early on in the book when we see Violet giving a talk about The Gallows Dance so whilst it was nicely thought out and interesting, you do have a general idea of where the book is going from the outset. Don't let that fool you into thinking that it spoils the book though! The plot is still exciting and just when you think you know what is happening next something new gets thrown in the characters' way.
I really loved the idea in this book of mixing real people with fictional characters (granted that technically they are all fictional, but you know what I mean!). It was interesting to see how the 'real' characters interacted with some of the fictional favourites and the dynamic that made between them. I liked Violet, our protagonist, a lot but my favourite character was definitely Katie. I just loved her zest for life and she is the Queen of sassy, sweary comebacks (apparently some of these have been edited out – boo!).
This book has definitely left things open for a sequel and I will definitely be reading it to find out what happens next to Violet, Nate, Katie, Alice and friends.
The Fandom is an enthralling read with plenty of twists and turns along the way that will keep you flipping those pages.
Thanks to Jazz at Chicken House Books for my advanced copy in exchange of a fair and honest review.
---
Have you read The Fandom? Is it on your TBR?
~ ANNOUNCMENT ~
I am going to be hosting a series of blog posts inspired by The Fandom on my blog. What would happen to you if you were thrust into your favourite fandom? If you are at all interested in answering a few questions and taking part, please let me know in the comments or message me on Twitter (@kellysrambles). Don't worry if you haven't read the book yet – it's not a necessity but I recommend it gets added to your TBR! Thanks!
---
---
Follow me on Twitter, Instagram, Bloglovin' or Goodreads. Comments are always warmly welcome.