Hi everyone! Finally I have reached half term break! I know lots of my fellow teachers in the UK are now finishing their own half term break but here in Wales we only finished yeterday so I'm looking forward to a week of relaxation and reading (plsu some work). I'm curretnly on voice rest as I've had no voice since Wednesday so a weekend of no talking what so ever will hopefully mean lots of undisturbed reading time for me! Hopefully my voice will return soon…
This half term I plan on reading quite a bit, it really helps me to switch off from work and it's been a busy half term! I also know in my head that the next half term is going to be even busier so I really need this break (especially as I was ill for the whole of the Christmas break too!). Without further ado, here's what I'm hoping to read this week!
The Belles by Dhonielle Clayton
I'm already halfway through this and enjoying it. I think it's really interesting to see a book with this concept and such a strong view on beauty. I'm hoping to finish this today!
Children of Blood and Bone by Tomi Adeyemi
I've heard nothing but BRILLIANT things about this book and I think it's right up there on most YA readers' highly anticipated lists for March. I was lucky to receive a proof of this so I'm excited to jump in!
The Exact Opposite of Okay by Laura Steven
I've been meaning to read this for a little while as I've had it on NetGalley and Laura is an absolute diamond of a person. The lovely people from Egmont sent me a gorgeous finished copy and I'm definitely going to read it this week! It could be my next read!
Make More Noise – Anthology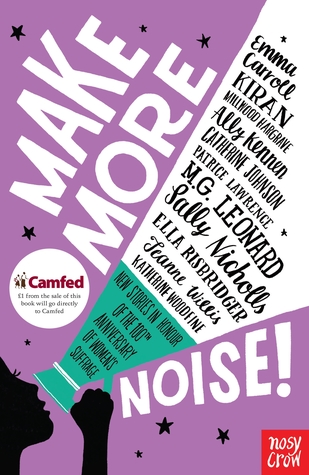 I've been looking forward to this ever since I heard about it. Make More Noise is an anthology celebrating 100 years of women's suffrage. A timely read but also one that seems right up my street PLUS it has some excellent contributors!
Orphan Monster Spy by Matt Killeen
Another beautiful book, just look at that cover! This one seems really intriguing and I was lucky enough to receive both a proof and a finished copy so there may be a giveaway happening soon. I don't read as much historical fiction as I would like to so this seems like a great choice for this week!
And there we have it! Maybe I'll read more, maybe I'll read less, who knows! But these are the books highest up on my list that I really want to get to this week. Sometimes TBR lists work for me and other times they don't, I won't really mind either way as long as I get some great reading done!
Have you read any of these books?
Do TBR lists work for you? Or are you simply a mood reader?
---
---
Follow me on Twitter, Instagram, Bloglovin' or Goodreads. Comments are always warmly welcome.