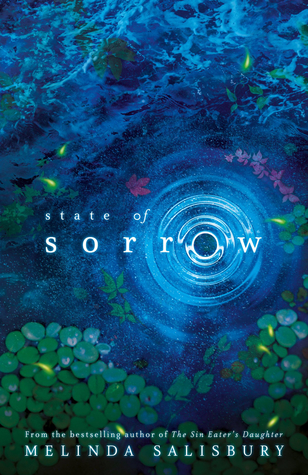 State of Sorrow

Author: Melinda Salisbury
Genre: YA, Fantasy
Publisher: Scholastic
Publication Date: March 1st 2018
Format: Paperback (452 pages)
---
Synopsis:
Sorrow all but rules the Court of Tears, in a land gripped by perpetual grief, forever mourning her brother who died just days before Sorrow was born. By day she governs in place of her father, by night she seeks secret solace in the arms of the boy she's loved since childhood. But when her brother is seemingly found alive, and intent on taking control, Sorrow has to choose whether to step aside for a stranger who might not be who he claims to be, or embark on a power struggle for a position she never really wanted.
---
My Rating: ★★★★★
Ah, a new book from Melinda Salisbury and what a jolly fantastic book it is! State of Sorrow is an interesting, political read set in a rich new fantasy world and I just couldn't get enough of it!
I am not one for spoiling plots, so I am going to keep this review fairly concise (however, please feel free to drop into my DMs on Twitter to scream about this book!) and not talk much about the plot…
Aside from the gorgeous cover and equally beautiful map, this book is a wonder to behold. I love a fantasy that is steeped in political intrigue and State of Sorrow certainly provides that. From the very first few chapters the scene is set and Sorrow's future looks to be one that is very much set in stone but a few chapters later and everything has been turned on its head. There begins a journey for Sorrow on which not only will she try to find herself but she will discover more than she ever expected to. For me, this book was very much a slow burn but I loved it for that reason. I loved filling my head with the knowledge of Sorrow's world and I was constantly surprised by the twists and turns her story took. Nothing is straight forward for Sorrow.
I LOVED the world so much. I loved the idea that Rhannon was this grey, sorrow-like state due to mourning its losses whereas Rhylla was this colourful, vivacious state and some of the scenes where Sorrow first visited Rhylla were my favourites. The way in which the two countries contrasted one another was really well done and I was able to imagine the joy on Sorrow's face at tasting her first cake just as easily as I was able to picture the confusion on her face at the first time she saw people openly smile.
My, oh my, does Salisbury know how to write excellent, layered characters. Sorrow is a fantastic lead character: she is strong, passionate and intelligent but also willing to admit her flaws (and you know how much I love a flawed character!). I think my absolute favourite character in the book was Irris just because she is such an excellent friend to Sorrow but also because she is a bit of a force to be reckoned with and at the same time completely sweet and adorable. The relationship between Sorrow and Charon was one that really warmed my heart and there were later scenes that made me very emotional. Luvian and Rasmus are BOTH excellent and I can't quite decide which one I like more. Again, I just loved that I couldn't really trust anyone in this book and there really is no such thing as the perfect person anywhere in this story.
It sounds silly to say but GOSH did this book really lead up to that cliff hanger of an ending. The story twisted and turned along the way but reading those last few paragraphs sent a shiver down my spine. I CANNOT wait for the next book and to see what happens next for Sorrow!
---
Have you read State of Sorrow? Is it on your TBR?
What are your favourite YA novels with a political flavour to them?
---
---
Follow me on Twitter, Instagram, Bloglovin' or Goodreads. Comments are always warmly welcome.