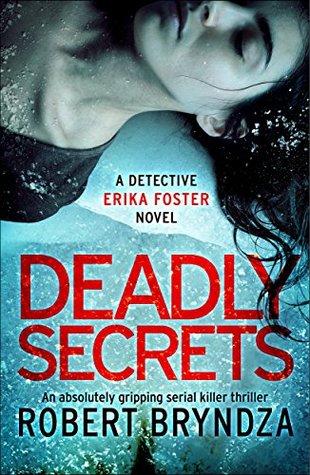 Deadly Secrets (Detective Erika Foster #6)

Author: Robert Bryndza
Genre: Adult, Thriller, Mystery, Crime
Publisher: Bookouture
Publication Date: April 13th 2018
Format: eARC (270 pages)
---
Synopsis:
On a cold icy morning, a mother wakes to find her daughter's blood-soaked body frozen to the road. Who would carry out such a horrific killing on the victim's doorstep? 
Straight off her last harrowing case, Detective Erika Foster is feeling fragile but determined to lead the investigation. As she sets to work, she finds reports of assaults in the same quiet South London suburb where the woman was killed. One chilling detail links them to the murder victim – they were all attacked by a figure in black wearing a gas mask. 
Erika is on the hunt for a killer with a terrifying calling card. The case gets more complicated when she uncovers a tangled web of secrets surrounding the death of the beautiful young woman. 
Yet just as Erika begins to piece the clues together, she is forced to confront painful memories of her past. Erika must dig deep, stay focused and find the killer. Only this time, one of her own is in terrible danger… 
---
My Rating: ★★★★.5
Well, well, well, Robert Bryndza does it again! I very rarely read books that are not Young Adult but nothing can keep me away from the DCI Erika Foster series – I am truly addicted!
Deadly Secrets is another really strong addition to the series. The case itself is a really intriguing one and this time we don't know who the killer is. We do get glimpses into different perspectives on the odd occasion which certainly roused my suspicions but I did not nail the killer in this book! Which was great! I was close (despite thinking I had it nailed) but I just wasn't quite there and I think the end of this book will shock a lot of readers.
Aside from the detailed police procedural side of the story, we get to know Erika on a deeper level in this book than we have in previous ones. I really like Erika as a character and find her to feel so real and down to earth. I love seeing her interactions with her colleagues although the interactions between her and a certain male colleague weren't quite what I was hoping for in this book! My favourite character aside from Erika is definitely Moss. She makes me laugh so much and I get such a warm feeling from her – it was nice that she had her chance to shine a bit more in this book.
Whilst these books can easily be read as standalone novels, I would highly recommend starting at the beginning and working your way through. They are addictive, gripping and fast-paced but I think getting to know the characters such as Erika, Moss and Peterson along the way really adds something special to each case. At the moment each book is peeling back a different layer to each character and I can't wait to see where Robert will take them all next!
Thanks to NetGalley, Bookouture and Robert Bryndza for my advanced copy in exchange for a fair and honest review.
---
Have you read Deadly Secrets or another book in the Erika Foster series?
What are your favourite police procedural novels?
---
---
Follow me on Twitter, Instagram, Bloglovin' or Goodreads. Comments are always warmly welcome.