Hi everyone! It's Monday and being as I am still catching up on reviews I thought we'd do another Mini-Review Monday. Today I've got four mini reviews for you to have a nose at. These are all YA books but all pretty different to one another so there's definitely something here for everyone! Covers will take you to their Goodreads page so you can add them to your own TBRs.
A Thousand Perfect Notes by C. G. Drews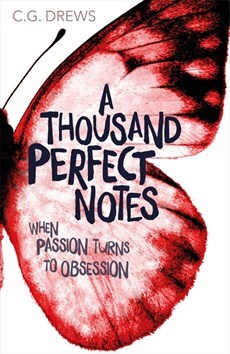 ★★★★
When I went into this book I knew I was in for an emotional ride. I had some idea what the book was about and knew to expect an abusive relationship. The trickiest part of reading this book is how emotionally abusive the relationship is as well as physically. I adored Beck and there were definitely parts of this book where I just wanted to wrap him up in cotton wool and look after him. The Maestro is an incredibly cold and cruel character but I was also pleased to see a story where the mother is abusive as this is so often overlooked. August is an absolute breathe of fresh air and I adored her presence in this book. Her friendship with Beck feels so incredibly real and I also adored her slightly whacky family. I am also a sucker for a slow burn romance and this book definitely provides the goods on that front! I also have to give a big shout out to little Joey, Beck's sister, who is an adorable little being. I loved how fiercely protective Beck is of Joey because those sibling feelings are oh so real. A Thousand Perfect Notes is definitely an emotional read but with plenty to keep you clinging on to hope too.
To Kill A Kingdom by Alexandra Christo
★★★★
SO MUCH YES. I had heard brilliant things about this book before I finally picked it up and it only took a few chapters before I was also totally hooked. I adored the mythology that is laced throughout the book and also that the chapters alternated between Lira, the Siren princess, and Elian, the human Prince and slayer of Sirens. The Sea Queen was rightfully terrifying but I also felt hypnotised into admiring her too? I really liked the dynamics between Lira and Elian and how both of their secrets were slowly revealed to the reader. I don't think I realised until reading this book just how fascinated I am by mermaids/sirens and its definitely given me a zest to read more books with them in!
S.T.A.G.S by M. A. Bennett
★★★★
This book has one of the BEST opening lines I've ever had the pleasure of reading. It sucked me right into the story and I couldn't put the book down for want of needing to know what happened. I loved the dynamics of power in this book: how the beautiful, rich, popular students literally held all the power in their hands and how the less fortunate, less beautiful and lower class students were quite literally at their mercy. This book is way darker than I expected it to be but I loved it – it really was a thrill! The idea of the hunting felt oh so British and I loved that dynamic too. I also loved the way that technology and social media were looked down upon by the Medievals and how that then influenced the other students to also not buy into new technologies etc. Such an interesting power dynamic throughout this book. There are twists right up until the end and I left the end of this book feeling quite worried and horrified by what may happen next!
The Potion Diaries by Amy Alward
★★★★
The Potion Diaries isn't a book I ever thought I would pick up but I'm glad that I did. In my head I had that this would be for a very young reader and whilst I liked middle grade novels I wasn't in the mood for one. I was very mistaken though and this book was actually a lot more captivating and dark than I expected it to be. I loved the competition element of this and the different alchemists competing to cure the Princess. There is friendship, love, betrayal and some great family dynamics too.
Have you read any of the books I've rambled about above?
I'd love to hear what you thought! 
---
---
Follow me on Twitter, Instagram, Bloglovin' or Goodreads. Comments are always warmly welcome.