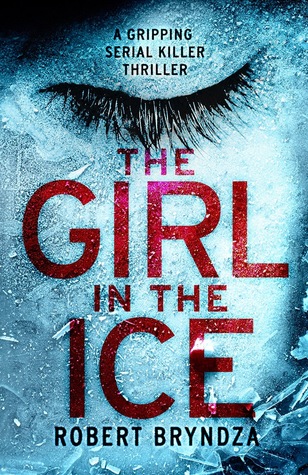 The Girl in the Ice

Author: Robert Bryndza
Genre: Mystery, Thriller
Publication Date: 12th February 2016
Format: ARC – Kindle (347 pages)
---
Synopsis: Her eyes are wide open. Her lips parted as if to speak. Her dead body frozen in the ice…She is not the only one. When a young boy discovers the body of a woman beneath a thick sheet of ice in a South London park, Detective Erika Foster is called in to lead the murder investigation. The victim, a beautiful young socialite, appeared to have the perfect life. Yet when Erika begins to dig deeper, she starts to connect the dots between the murder and the killings of three prostitutes, all found strangled, hands bound and dumped in water around London. What dark secrets is the girl in the ice hiding?
As Erika inches closer to uncovering the truth, the killer is closing in on Erika. The last investigation Erika led went badly wrong… resulting in the death of her husband. With her career hanging by a thread, Erika must now battle her own personal demons as well as a killer more deadly than any she's faced before. But will she get to him before he strikes again?
---
My Rating: ★★★★★
Huge thanks to Netgalley, Bookouture and Robert Bryndza for my copy in exchange for an honest review.
I am so glad that I requested this arc. This book was even better than I anticipated. I was first drawn in by the beautiful cover and the summary sounded like the exact thing I love when it comes to a good murder mystery. This is an exciting, fast-paced and thrilling ride right up until the last page. From the very beginning I found myself totally engrossed in the story. The detailed descriptions made it very easy to visualise this book, which for me, makes it much easier to read.
The story follows the discovery of Andrea Douglas-Brown's body and the investigation surrounding her murder. DCI Erika Foster is our main character and I easily fell in love with her. She's far from perfect, but she's strong, level-headed, fiery and passionate. She's never going to rest until the killer is caught, no matter who gets in her way. The investigation takes plenty of twists and turns: what is Andrea doing in such a back alley pub? Who is the man in the photograph? Why does her sister hate her so much? What happened to Andrea's friend who disappeared off the face of the Earth?
What did I love most about the book?
Erika Foster. I am a sucker for a strong female lead and Erika is the kind of character I fall head over heels for. She is strong, independent and passionate, everything I admire in my favourite female role models. I loved her determination to get justice for the dead prostitutes and Andrea, despite how many public figures she had to shame in the process. She is by no means perfect, she is eaten by guilt over the death of her husband and colleagues and at the end of the novel we see Erika begin to accept her loss and look to the future. I can't wait to learn more about Erika in future novels.
Final Thoughts
This story had the right level of action, excitement and suspense for me. It was an easy read, thanks to the descriptive writing and characterization. Fast-paced with a good mixture of investigation, police work, behind the scenes glimpses and a few chapters written from the killers point of view. I desperately wanted to know who the killer was and, after a big twist, I was not disappointed! A thrilling read and I'm delighted that we will be seeing DCI Foster in a second book soon!
---
Feel free to follow me on Twitter or Goodreads. Comments are always warmly welcome.