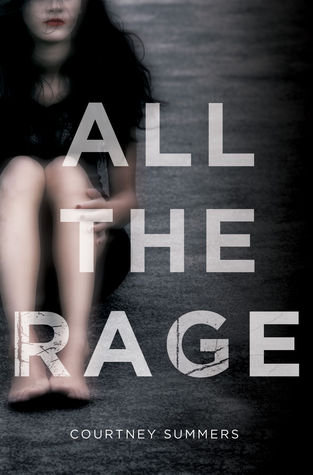 All The Rage

Author: Courtney Summers
Genre: Young Adult
Originally Published: 14th April 2015
Format: ARC (321 pages)
---
Synopsis: The sheriff's son, Kellan Turner, is not the golden boy everyone thinks he is, and Romy Grey knows that for a fact. Because no one wants to believe a girl from the wrong side of town, the truth about him has cost her everything—friends, family, and her community. Branded a liar and bullied relentlessly by a group of kids she used to hang out with, Romy's only refuge is the diner where she works outside of town. No one knows her name or her past there; she can finally be anonymous. But when a girl with ties to both Romy and Kellan goes missing after a party, and news of him assaulting another girl in a town close by gets out, Romy must decide whether she wants to fight or carry the burden of knowing more girls could get hurt if she doesn't speak up. Nobody believed her the first time—and they certainly won't now — but the cost of her silence might be more than she can bear. 
With a shocking conclusion and writing that will absolutely knock you out, All the Rage examines the shame and silence inflicted upon young women after an act of sexual violence, forcing us to ask ourselves: In a culture that refuses to protect its young girls, how can they survive?
---
My Rating: ★★★★★
How can I start this review in any other way than: WOW! I had seen plenty of good reviews of this book but tried to go in as open minded as possible. It wasn't long until I was totally and utterly consumed by this incredibly heart-wrenching and emotional book.
Trigger Warning: This novel very openly discusses the rape of a teenager and the emotional and physical consequences.
Romy is an ordinary teenage girl, at least she was until she was raped and, worst of all, nobody believed her. Romy faces the world with a fresh layer of red lipstick and perfectly manicured nails; her own armour against the cruel world around her. We see Romy face the difficulties of going to school where everyone thinks she is an attention seeking 'slut', where the girls hate her, even her ex-best friend refuses to believe what happened to her. Isolated from her peers, we watch, heart-breakingly, as Romy struggles to accept affection from Leon, her caring co-worker. For me, this was the most heartbreaking part of the novel. Romy's internal battle between wanting to fall for Leon, wanting to let him in, wanting him to hold her, but her believing she is not worthy of him, that he only has one thing in mind. She even believes that she needs to test him, pushing him far away, hurting the both of them at the same time.
After Romy wakes up on the side of a road with 'Rape Me' written on her stomach and discovers that Penny, her ex-best friend, is missing, we follow the many twists and turns to find out Penny's fate. With her peers blaming Romy for Penny's absence, Romy faces the same question again: Why don't they believe me?
What did I love most about the book?
The characters. Courtney Summers succeeds where so many others don't quite make it. She manages to create characters who we can love whole heartedly. I feel fiercely protective of Romy. I desperately want to wrap her in my arms and make sure she is okay. At the same time, Summers manages to create high school girls and boys who are individual, important and painfully similar to people we have all encountered at some point in our lives. So many of these characters are easy to dislike, maybe even hate, but there is no denying that they are all beautifully crafted and well-thought out by Summers.
I also loved how painfully honest this book was. I think it is so important that people take time to stand back and appreciate how incredibly soul and life destroying something like rape can be. More importantly, this novel brings to light the consequences of society turning a blind eye to the most challenging of situations. Rape cannot go unnoticed, its victims should not feel that they have to stay quiet.
Memorable Quotes
"You know all the ways you can kill a girl? God, there are so many."
"My dad used to say makeup was a shallow girl's sport, but it's not. It's armor."
"I don't believe in forgiveness. I think if you hurt someone, it becomes part of you both. Each of you just has to live with it and the person you hurt gets to decide if they want to give you the chance to do it again. If they do and you're a good person, you won't make the same mistakes. Just whole new ones."
"I want to burn a moment of helplessness into him so he can know a fraction of what I felt, what I feel, what's followed me every moment since."
Final Thoughts
This is a truly heartbreaking and emotional read. It contains heavy triggers of rape, which should be considered before reading. However, I believe this to be one of the most poignant and important books I have ever read. I can't begin to imagine that the people closest to me wouldn't believe me if something like this ever happened to me. This book is full of complete and utter raw emotion from beginning to end. It is so beautifully written and I think Courtney Summers has created an incredible novel, that, while fictional, will feel so real to all of us for years to come.
This book is painful, emotional and, most importantly, powerful. I can't wait to read more of Courtney's work. Thanks to Netgalley and publishers from my arc.
---
Feel free to follow me on Twitter or Goodreads. Comments are always warmly welcome.