5 more work days and I have 9 days off! I can't wait. I've been really busy this week so I haven't made as much reading progress as I would have liked, but this time off will have me soaring through my tbr (I hope!).
Books of the Week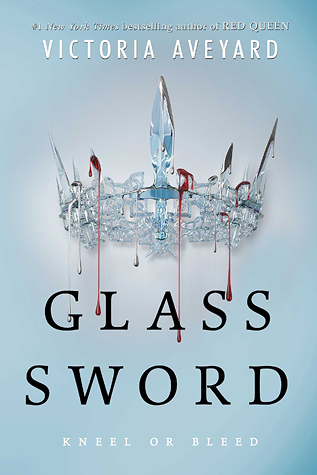 I got my arc of Glass Sword by Victoria Aveyard through at the beginning of the week so I've slowly been working my way through that. I plan on going to read more of it in bed once I've posted this actually. I'm about 75% of the way through it and I'm enjoying it so far. I'm not sure I like it as much as Red Queen yet, but the action is really about the kick in so I could well be raving about this in a few hours time! I have my hard copy preordered and can't wait to get my hands on it when it arrives on Thursday. Do you plan on reading Glass Sword? What are you most excited for?
---
Films of the Week
I've only watched one movie this week, I've been so busy. I chose to watch 'Truth' which features Cate Blanchett and Robert Redford. It follows the true story of the CBS 60 minutes report which investigated President George W. Bush. It was an okay film. Cate Blanchett was great, but when isn't she? I like movies like this, but I think next time I'll rewatch Spotlight to get my fix. If you haven't seen Spotlight, I highly recommend that you do. It's fantastic.
TV of the Week
For anyone who has checked out my watch-list, you'll know I have a fairly long list of shows that I watch. Due to being busy in the week, the weekend is my dedicated 'TV-catch-up' time. This week I had the following shows to catch up on:
Chicago Fire (S04e13)
Girlfriends Guide to Divorce (S02e10)
New Girl (S05E05)
Pretty Little Liars (S06E14)
Suits (S05E12)
The Good Wife (S07E13)
My favourite episode of the week was definitely The Good Wife. Alicia finally had an emotional breakdown and my heart went through it with her. Julianna Margulies is fantastic as Alicia and she constantly breaks my heart and plays with my emotions. Suits was a close second this week! Really interested to see what other turns this half of the season will take.
I also watched another 8 or so episodes of Gossip Girl. Definitely going strong on the binge there! Nearly on Season 3!
Blogposts of the Week
Finally…
This week was so busy, so I'm looking foward to a slightly quieter week (hopefully!). I'm quite surprised I still managed to churn out a few reviews. My next review will be of Glass Sword and will be up in time for its release this week. Hope you all had a great week!
---
Feel free to follow me on Twitter or Goodreads. Comments are always warmly welcome.